Each month, I summarize local, national and international "stories of need" from local, national and international news sites, blogs, press releases and editorials. The following are some of October's most need-in-the-news-worthy stories:
---
YEMEN — Famine and civil war perpetuated in large part by a coalition led by Saudi Arabia — a nation that receives large amounts of investment from Silicon Valley — continues with more innocent victims killed by the day.
UNITED STATES OF AMERICA — Despite recent testimony that cast doubt on his suitability, Brett Kavanaugh was sworn in as the newest member of the U.S. Supreme Court…Matthew Shepard was laid to rest at the National Cathedral, twenty years after his murder near Laramie, Wyo…Controversy over voter intimidation in Georgia made national news…And a large caravan of asylum seekers from Central America became a lightning rod issue on the eve of November elections…According to this story, more people have died from the current opioid epidemic than died during the height of the AIDS epidemic a generation ago…Eleven people worshiping at their synagogue were killed by a gunman in Pittsburgh, Pa.
ETHIOPIA — Sahle-Work Zewde became the first female president of the East African nation.
HUNGARY — A new law bans homelessness, or more specifically 'rough sleeping,' placing thousands of people who are homeless in a sort of legal and practical limbo.
IRAQ — This is war — many children of ISIS soldiers have been abandoned and left to fend for themselves.
CANADA — Our northern neighbor legalized marijuana. Meanwhile, many First Nations people in Canada are unable to drink their water at home.
---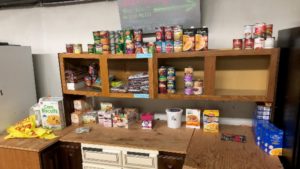 At times, what gets lost in the concern and clamor over major local, national and international events and issues, are ordinary people, communities, businesses and other groups doing extraordinary things. Here are a handful I've heard about recently:
HUDSON (Massachusetts) — Residents of the Meadowbrook mobile home community successfully converted their park to cooperative ownership.
DURHAM (North Carolina) — Recent Nobel winner Nadia Murad spoke at Duke University about her outspoken advocacy for women who have suffered from sexual violence.
TAIZ (Yemen) — Adel al-Shorbagy, a teacher in the embattled city of Taiz, has opened his house as a safe refuge in which 700 kids can continue their education.
EL SALVADOR — Oscar Romero, the martyr for peace and justice who served as Roman Catholic archbishop of San Salvador, was canonized by the Roman Catholic Church, meaning he was officially declared a 'saint.'
DENVER (Colorado) — Psychotherapist Stacey Freedenthal studies suicide and depression in part because of her own life experience.
UGANDA — While other nations debate reasons to keep migrants out, Uganda is letting them in.
1968 MEXICO CITY OLYMPICS — Before Colin Kaepernick, there were Tommie Smith and John Carlos.
GRAND JUNCTION (Colorado) — This Western Slope city is taking a unique approach to suicide prevention.
---
Thoughts and stories worth reflection:
TIME TO CALL IT — This might help get you ready for election day.
ONE YEAR LATER — A look at the #MeToo movement one year after it began.
THRIVING > GROWING — Check out an economic model that makes betters sense of the world than the one we currently follow.
SEVENTEEN YEARS LATER — Afghanis reflect on 17 years of war.