Each month, I summarize local, national and international "stories of need" from local, national and international news sites, blogs, press releases and editorials. The following are some of June's most need-in-the-news-worthy stories:
---
UNITED STATES OF AMERICA — Citizens marched in protest across the country against the administration's policy of separating members of immigrant families, a policy for which the United Nations rebuked the U.S. government. Despite an executive order overturning family separations, at least many children remain detained in inhuman conditions apart from their parents, often in different states. Meanwhile, yet another unarmed young black man was shot and killed by police, this time in Pittsburgh.
THE MIGRANT CRISIS — This is what many immigrants are fleeing.
YEMEN — The United Nations warned that a quarter of a million people could die from famine in the port city of Hudaida.
ETHIOPIA & ERITREA — After 20 years of border disputes, these two Eastern African nations have agreed to negotiate peacefully.
COLOMBIA — This month's election prompted observers to wonder about the future of Colombia's hard-won political peace.
BANGLADESH — Nine months after the Burmese military crackdown on Rohingya people, approximately 25,000 sexually assaulted Rohingya women are expected to give birth in refugee camps.
---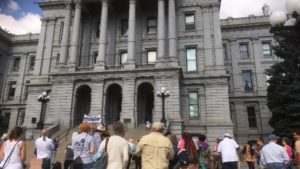 At times, what gets lost in the concern and clamor over major local, national and international events and issues, are ordinary people, communities, businesses and other groups doing extraordinary things. Here are a few I've heard about recently:
GILCREST (Colorado) — Students at Valley High donated nearly $1,000 so their paraprofessional teacher could purchase hearing aids.
BOGOTA (Colombia) — Jose Alberto Gutierrez, a garbage collector, has been called his country's 'Lord of the Books,' because he has for years saved books from residents' trash. He now has filled more than 450 libraries and readings centers with his books.
ALASKA AIRLINES FLIGHT — 15-year-old Clara Daly used her knowledge of sign language to come to the aid of Tim Cook, a deaf and blind passenger on her flight from Boston to Los Angeles.
PARTS UNKNOWN (France) — Celebrity chef Anthony Bourdain left a legacy of inclusion and welcome.
SIERRA LEONE — Bornor captains a team of soccer-playing amputees called The Flying Stars.
MORRISTOWN (Tennessee) — After ICE agents raided a local meatpacking plant and shipped 100 employees, many who have U.S.-born children to out-of-state detention centers, residents started asking questions.
---
Thoughts and stories worth reflection:
GOD IS ON OUR SIDE — Whose side is God on in America's new moral war and what happens when people in authority misuse Holy Scripture?
THE FUTURE OF INDEPENDENT JOURNALISM — Corporate media conglomerates own most journalistic enterprises in the United States, but the Colorado Sun is among media outlets seeking "independence."
NIMBY v. YIMBY — While some suburban communities adopt camping bans along the lines of those passed by large cities, an encouraging new movement in San Francisco advocates for affordable housing amidst affluent neighborhoods and a citizen-led campaign in Barcelona calls for the arrival of immigrants over tourists.
BEHIND THE NUMBERS — Philanthropy has increased quantifiably, but the destinations of many philanthropic gifts remain dubious.
#FAMILIESBELONGTOGETHER — My friend Heath Haussamen on the criminal travesty and tragedy that is our nation's current zero-tolerance immigration policy.
A NATION OF IMMIGRANTS — When the nativist descendants of past immigrants and refugees forget their past, this should serve as a good reminder.