At the end of every month, I summarize local, national and international "stories of need" from news sites, blogs, press releases and editorials. The following are some of November's most need-in-the-news-worthy stories:
---
STANDING ROCK SIOUX RESERVATION, NORTH DAKOTA — Nonviolent protests continued against the construction of an oil pipeline through Sioux reservation lands in North Dakota, despite the arrival of winter weather.
SYRIA — In besieged East Aleppo, winter has arrived, hospitals have been destroyed and those who haven't fled are running out of food.
PORTLAND (Oregon) — Protests here temporarily turned violent in the wake of November's election results.
PAKISTAN — People who are poor and vulnerable have become targets of traffickers who kidnap and detain people in order to harvest their kidneys.
CENTRAL AFRICAN REPUBLIC — According to the Global Youth Development Index, this nation is the worst place on earth to be a girl.
---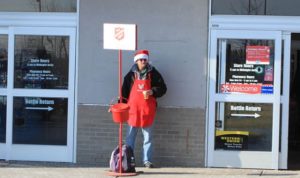 At times, what gets lost in the concern and clamor over major local, national and international events and issues, are ordinary people, communities, businesses and other groups doing extraordinary things. Here are a few I've heard about recently:
DENVER (Colorado) — The Denver Post recently highlighted Joshua Station, a ministry for people on the margins out of an old, refurbished hotel.
PARIS (France) — Seventy-eight years ago, Henry and Hertha Bromberg sold a Van Cleve painting in order to escape from the Nazis. This month, the painting was returned to them.
LOS ANGELES (California) — Leonard Cohen, a modern-day, Canadian 'poet of brokenness' died at the age of 82. He is perhaps most famous for his song "Anthem," which includes (some of my favorite lyrics ever), "Ring the bells that still can ring/Forget your perfect offering/There's a crack in everything/That's how the light gets in." Here is a reflection on Cohen's life by the educator Parker Palmer.
SAN FRANCISCO (California) — Dale Dougherty, a founder of the "Makers Movement" and Makers Faire believes trying, failing, making, and doing help kids learn.
PESHAWAR (Pakistan) — The lives of Sharbat Gula and Steve McCurry are linked by a photograph, which has become an icon of the refugee struggle.
ROCHESTER (New York) — Dozens of voters left "I Voted" stickers on the gravestone of suffragist Susan B. Anthony, because Anthony never had the chance to vote herself.
TIRANA (Albania) — Years ago, Ada Kita co-founded the Jonathan Center. Now her work is helping overturn the stigma in Albania that is still associated with children who have Down's Syndrome.
---
Stories worth reflection:
HOLIDAY GIFTS THAT MATTER — Here's how New York Times columnist Nicholas Kristof suggests you make a difference this holiday season.
SAFETY PIN MOVEMENT — Here's why you might see people wearing safety pins on their clothing in the coming days.
YOUR LINE TO REMEMBER — If you were the first person to step foot on Mars, what would you say?