At the end of every month, I summarize local, national and international "stories of need" from news sites, blogs, press releases and editorials. The following are some of January's most need-in-the-news-worthy stories:
---
KOSOVO — Protesters clashed with police while calling for the resignation of Communities Minister Aleksandar Jablanovic, after he called some ethnic Albanians "savages."
YEMEN — The resignation of the U.S.-backed former president Abdu Rabbu Mansour Hadi, prompted by Shiite Houthi rebels, has left in the air the status of this strategic and influential Arabian Peninsula country.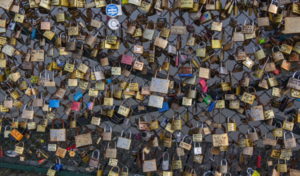 SYRIA & IRAQ — The regional conflict between the extremist group ISIS on one side and militias and government forces from Syria, Iraq and Turkey (not to mention the "Allied" air campaign led by the United States) raged on. An attempt in Basra, Iraq, to build a "love bridge" on the model of the Pont des Arts in Paris has met resistance from local conservative militias.
---
At times, what gets lost in the concern and clamor over major local, national and international events and issues, are ordinary people, businesses and other groups doing extraordinary things. Here are a few I've heard about recently:
NEW YORK (New York) — In 1979, six-year-old Etan Patz disappeared while walking to his school bus. Tragically, he was murdered. But his disappearance and death sparked a national find-missing-children movement that began to place the photo of missing kids on milk cartons.
PORTUGAL — Five hundred years after the Inquisition in Portugal and Spain, the nation of Portugal is offering citizenship to the descendants of expelled Jews.
NORTH KOREA to SWEDEN — Han Song, a seventeen-year-old who lived as a street child in North Korea, reputedly journeyed from North Korea, through China and all the way to Sweden, where he is seeking asylum as a refugee.
BALTIMORE (Maryland) — Tony Simmons is homeless, but that doesn't stop him from trying to help others get off the streets. Simmons is now staying with a friend, but spent three years in a shelter.
SAN FRANCISCO (California) — Tim Durbin completed six marathons in six days on six different continents.
---
Stories worth reflection:
INFECTIOUS DISEASES AROUND THE WORLD — Here is a map of the most deadly infectious diseases worldwide.
DECLARED DEAD — The Mexican government has officially declared dead the 43 students missing since September.
INCOME CHARTS — For two unique looks at income disparity, click here and here.
AUSCHWITZ: 70 YEARS LATER — Jan. 27 marked the 70th anniversary of the liberation of the Auschwitz Nazi Concentration Camp.