At the end of every month, I summarize local, national and international "stories of need" from news sites, blogs, press releases and editorials. The following are some of December's most need-in-the-news-worthy stories:
---
NIGERIA — Boko Haram continued its campaign of kidnappings and murder in Borno state.
PAKISTAN — In a recent attack, the Pakistani Taliban killed 132 schoolchildren, causing even some militants to denounce them.
UNITED STATES — Ezell Ford, Eric Garner, Michael Brown, Donte Hamilton, Antonio Martin: these are all African-American men killed recently after encounters with white police officers. Their names, as well as their guilt or innocence, and the guilt or innocence of the officers associated with their death, have fomented a national debate on race, crime, the criminal justice system and the use of force in law enforcement.
---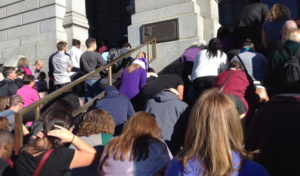 At times, what gets lost in the concern and clamor over major local, national and international events and issues, are ordinary people, businesses and other groups doing extraordinary things. Here are a few I've heard about recently:
DETROIT (Michigan) — Teachers in this troubled city recently banded together to collect coats and cash for needy kids in Iraq.
EIZARIYA (West Bank) — Aziz Abu Sarah was an embittered youth who participated in the first Intifada. Then he went to Hebrew class and has since become invested in the conflict resolution movement.
NATIONAL CANCER INSTITUTE — A conversation with Nobel-winner Harold Varmus.
SYDNEY (Australia) — Two victims of the "Sydney Cafe Siege" died protecting other hostages.
CUYAHOGA FALLS (Ohio) — Angela Crangle found time to help others this Christmas, even as her own family struggled to make ends meet.
---
Stories worth reflection:
THE POPE, THE U.S. & CUBA — Did the Pope help the U.S. and Cuba re-establish diplomatic ties?
ON FAIRY TALES — Rowan Williams says we need fairy tales more than ever.
BREAKING BAD & CAPITALISM — Great column on the critique of capitalism implicit in the hit AMC series "Breaking Bad."
TORTURE: FAIL — According to a former war crimes prosecutor, torture doesn't work.
COMPANY STORES TRAP EMPLOYEES — Many workers head home owing money after working for some businesses in Mexico.