Yesterday, I joined about 50 representatives from 20 area non-profits and faith communities, mostly from Boulder County, for an informal flood relief coordination meeting in Boulder, Colo. Three of us represented the Refuge and several other Broomfield churches.
It was hard to hear about the damage to lives and property caused by the terrible flooding last week and over the weekend, just in Boulder County. From waist-deep water in ground-level apartments to roads washed away to kids having to be evacuated by Black Hawk helicopters there was no shortage of stories of loss and devastation. I know personally of University of Colorado students who lost everything from their apartments. I've heard several reports that mobile home neighborhoods were hit particularly hard — where many families with upside-down mortgages have no other option than to stay in and repair their destroyed homes. I don't have accurate statistics on this yet, but I suspect the number of families without flood insurance whose basements flooded, both inside and outside of Boulder County, is staggering. So, too, are the number of communities affected: Boulder, Longmont, Lyons, Commerce City, Greeley, and many more.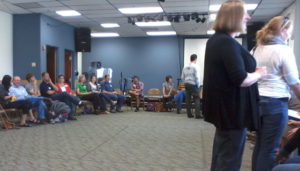 There are some signs of hope, despite the coming days of rescue and weeks and months of recovery and reconstruction ahead. Boulder County non-profits and government agencies, for their part, appear to be well connected to each other and have quite a few resources at their disposal. The Federal Emergency Management Agency (FEMA), the state of Colorado and local government emergency management are on hand, as are several national faith-based relief agencies like Convoy of Hope and Operation Blessing. Others, like Samaritan's Purse, have supplies and personnel on the way.
The sheer volume of needs is the most disorienting aspect of this situation for those of us who are mostly on the outside looking in at the challenges our neighbors face. Thankfully, despite a few scary incidents, Broomfield escaped relatively unscathed. As representatives of Broomfield churches, our role at yesterday's meeting was mostly to listen to needs and try to discern where and how to direct the many folks from Broomfield who already want to volunteer during cleanup and recovery efforts. There certainly will be enough work to go around for quite some time.