This video, entitled "Relational Tithe: We Are Not Alone" was shown during the Café's main workshop. (Video by RelationalTithe, Shane Claiborne and TheWorkofthePeople.com.)
I attended my second local, service-focused event in as many weeks yesterday, joining about 60 other representatives of faith communities and non-profits from as far away as Nebraska and Florida. Thankfully, I didn't have far to travel since the "Community Services Café" that brought us together was held in the familiar confines of Crescent Grange in Broomfield, Colo.
The Café was the fruit of months of planning, coordination and hard work by Deb Meyer, an ordained minister of The Wesleyan Church, and featured a morning workshop on principles of community development facilitated by Dave Clark of the Christian Community Development Association (CCDA) and Q Nellum of Mile High Ministries. Afternoon breakout sessions included one on grant writing by Karen Smith, the executive director of the Broomfield Community Foundation, and another on "Being Prepared When Tragedy Strikes" by Reid Hettich, a pastor from Aurora, Colo., who ministered to families and city leaders in the wake of the recent Aurora theatre shootings.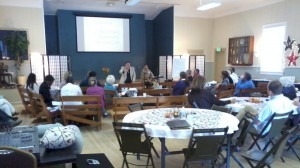 Discussion during the Café centered around how best to serve a community or neighborhood through presence, listening, empowerment and long-term commitment.
I'm hopeful for what will happen in Broomfield, in particular, as a result of the connections made and lessons learned at yesterday's all-day Café, which was sponsored by the Community Based Ministry of the Wesleyan Church, CCDA, The Refuge faith community and Everyday Epics. Rudi's Organic Bakery catered lunch for café participants.