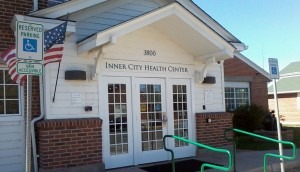 Yesterday, I joined about 200 others for a luncheon celebrating the work of Congregational Health Ministry (CHM) and Inner City Health Center (ICHC). I interviewed Bob Cutillo, the ICHC's medical director, earlier this year for my story, "Uninsured Underside," but it wasn't until a friend from church became a patient at the ICHC that I was convinced of the need for the Center's work.
Ironically, Kathy Escobar, one of the co-pastors of my family's church was the luncheon's keynote speaker. She told the story of our friend, a financially struggling single mom who had a serious health condition. Unfortunately, due to a variety of circumstances, the low-cost community health centers in North Denver had months-long wait lists for patients in her situation. She literally was falling through the cracks in the system.
Thankfully, around that time, Karl Wheeler, another co-pastor of our church, found himself playing pickup basketball with Kraig Burleson, the chief executive officer of ICHC. Our friend, the single mom, got an appointment the very next day and received medical treatment at the ICHC's facility at 3800 York St. in North Denver.
In addition to medical care the ICHC, which began in 2006 and acquired CHM in 1993, provides dental and basic counseling services for uninsured patients. Through CHM's network of churches, health care providers and community agencies, it provides health services to uninsured and underserved populations who lack access to primary health care. These services include church-based health education programs, community health screenings, and referrals to area health care facilities.
According to the ICHC's development director Bruce Will, 51 percent of the Center's patients live outside the City and County of Denver in surrounding metro-area counties, the eastern plains and even mountain communities. That suggests to me that our safety net system of community health centers itself needs a safety net, and that efforts like those undertaken by the ICHC and CHM deserve more support and attention than they are currently getting from the general public and government, alike.