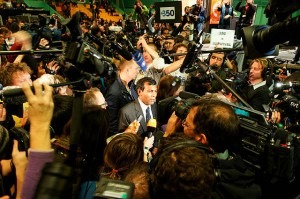 An overview of stories of need with links to news articles, editorials, press releases and blog posts from around the nation and the world:
Front-Page Worthy
Fighting the Good Fight
Troublespot Alerts
Reflections & Reviews
VETS' TRAUMA MORE THAN PTSD?: According to Nicholas Kristof of the New York Times, the incidence of suicide by U.S. military veterans of Iraq and Afghanistan might be linked to latent blast-induced brain disease.
HOW FREE IS TOO FREE?: The Vatican recently reprimanded the Leadership Conference of Women Religious, the largest group of American nuns. The move has sparked debate both inside and outside the Catholic Church. For an audio perspective of both sides, listen to this recent segment on National Public Radio.
MILE HIGH DYSTOPIA?: A March 29 Washington Post story investigated whether Denver, Colo., is the model for the fictional Capitol in The Hunger Games fiction trilogy.
RECOMMENDED READS:
MUST SEE:

Check out the acclaimed documentary, The Island President, about the now-former president of the Maldives, Mohamed Nasheed and his memorable efforts to raise awareness of climate change. Nasheed resigned from the presidency in February under threat of violence from a coup led by security forces in the Maldives.
Published in April on EverydayEpics.com
Coming Up
Commentary: Social services and human dignity, what is the "good news"?, and the role of churches in addressing the story of need. Also, a guest commentary on health care in America.
Stories: A survey of health care in Colorado, everyday life for a foster family and the everyday challenges of immigrants.
---
Feel free to share your thoughts about this month's review of "need in the news" or offer additional links below.