I offered the following (lightly edited) remarks at a recent Broomfield city council meeting, during which I was among local advocates "accepting" a copy of a formal proclamation declaring Nov. 11-18 Hunger and Homelessness Awareness and Action Week:
Good evening, everyone — my name is Marrton Dormish. I'm a minister of presence, justice and memory at the Refuge, a Northmoor Estates resident and a long-time advocate for functional housing stability in Broomfield.
I'd like to thank both the members of city council and CCOB staff for tonight's proclamation. And I'm especially grateful to all of you who worked so hard recently to ensure full funding for this winter's Severe Weather Activation Program (or SWAP) effort, run by our non-profit partners at Almost Home. SWAP provides vital humanitarian assistance in the form of hotel vouchers on extremely cold nights for local residents who are experiencing homelessness. The number of vouchers able to be offered is budget-limited and not enough to help all our neighbors who are outside, but SWAP 2023-2024 is a much more substantial resource than we were able to offer our most vulnerable neighbors even five years ago.
I remember a time not too long ago when this body and many city staff refused to even acknowledge that homelessness existed in our community. That was largely due, I believe, to our decades-long practice, when Broomfield residents had exhausted their own resources and had fallen into severe housing instability or homelessness, to export them to shelters in Boulder or Denver. To use a biblical metaphor, we washed our hands of them.
As I detail in The Sweep Report 2.0: Housing from below in Broomfield, Colorado, USA, published in the spring of 2022 and available at everydayepics.com, at any one time there are about 200 people experiencing homelessness in our community.
Since 2019, five people have died while unhoused in Broomfield. Their names and ages were James, 59; Randy, 55; David, 67; Brittany, 36; and Rich, 61. Three of them graduated from BHS. Two of them served in the armed forces. All of them lived here for many years.
Just a few weeks ago, I met a man named B. who lived in "affordable" senior housing in Broomfield, but fell on hard times and was unable to pay his rent and has ended up sleeping outside and carrying his remaining belongings around on a cart.
Just last week, I reconnected with a local veteran who is experiencing homelessness outside, all while dealing with severe neuropathy and having trouble waking. He sleeps outside not far from here.
Just today, we had an unhoused guest at the Refuge Café who had a medical emergency and had to be taken to the hospital because he hadn't had a way to pick up or pay for the medical prescription that he needed.
According to my colleague Dayna Scott, everyone they see at FISH is cost-burdened or severely cost-burdened — meaning they spend more than the rule-of-thumb-recommended 30 percent of their income on housing expenses — and she says that is the NUMBER ONE reason for so many Broomfielders needing FISH's help with food, financial assistance, transportation and more. She also shared with me that FISH had to turn away 60 percent of the people needing rental assistance in Fiscal Year 2023, b/c they didn't have enough financial resources for everyone. That's three out of every five Broomfield families who requested assistance, meaning FISH had to prioritize who they could help and serving as a warning sign that we as a community may be on the cusp of even higher rates of homelessness in the months to come.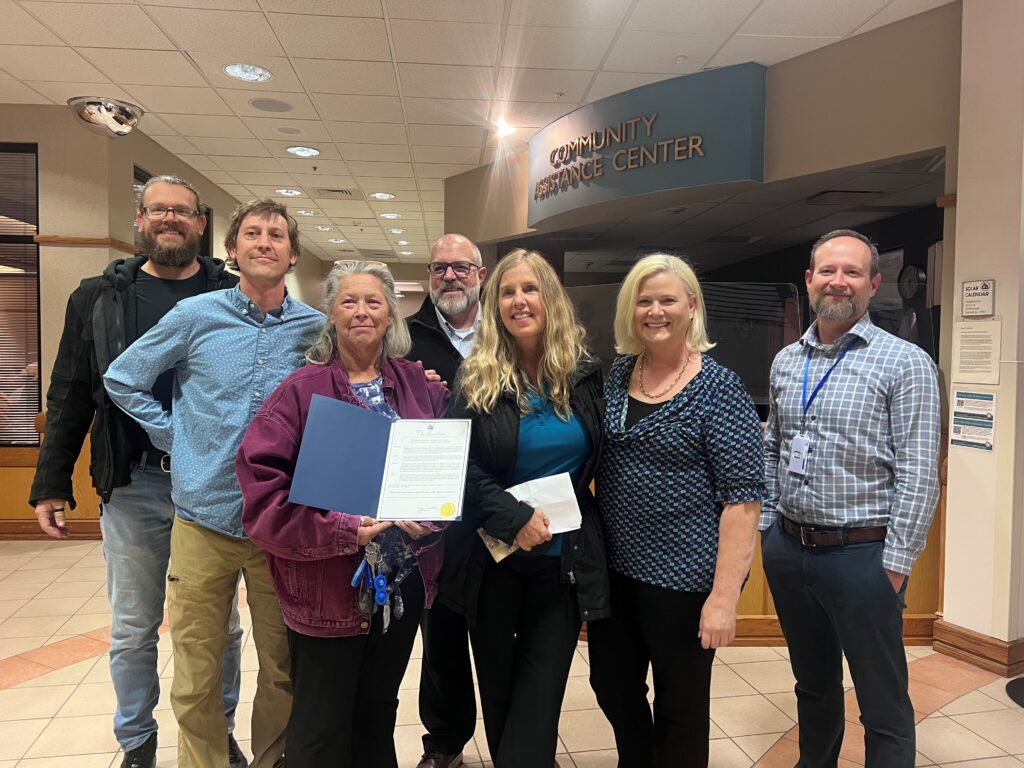 I hear similar reports of being more stretched than ever from other agency partners and we certainly feel that way at the Refuge Cafe. The reality is that a committed core of advocates and on-the-ground agencies have been pushing the same boulder up the same hill, fighting the effects of ballooning housing costs and relatively stagnant blue-collar wages, over and over and over again, for years. It's often rewarding work. At the same time, it's discouraging to unceasingly encounter the same snafued system of income and housing disparities alongside successive waves of vulnerable and newly displaced residents. Over and over and over again.
We need help! Much, much more help! And not for some obscure need. All up and down the Front Range we are seeing this need voiced. Affordable housing was the No. 1-concern voiced by respondents to the CCOB's 2021 community survey and it's consistently at the top of all our lists as a priority. No one I know who is experiencing homelessness ever thought they would be in that situation, and none of the stably housed people I know who have children or other relatives or friends who are experiencing homelessness ever thought they'd know anyone in that situation either.
So, on the occasion of receiving this proclamation and the emphasis that goes with it, I'd like to challenge this body and my fellow Broomfield residents to undertake long-lasting action to address the local challenge of severe housing instability and homelessness.
Council, I would ask that in your current makeup and your soon-to-be-updated makeup that you seriously consider putting a quarter-percent sales tax measure toward temporary and transitional housing supports and functional housing stability for all Broomfielders on the fall 2024 ballot.
I'm modeling this proposal after the voter approved quarter percent sales tax that has been on our books since the 90s to preserve and maintain our great open spaces. If we can invest in nature and our community's outdoor spaces, we certainly can invest in offering a hand up to our most vulnerable human neighbors.
This is a crucial issue not least because the pots of ARPA and other funding currently used to pay for SWAP will be gone in another year or two. It's incumbent upon us and our community to prepare a new finding mechanism and line item in the city budget, in perpetuity, to assist our neighbors in need. Budgets are moral documents that reflect a community's values and priorities and I would urge you to keep that in mind as you engage in this issue.
Please give our community the chance to act robustly so that we can all meet at some future council meeting to offer a proclamation that homelessness has effectively ended in Broomfield. In fact, we are already on the cusp of ending veteran homelessness here and with more support we could end homelessness for single mothers, victims of domestic violence, retirees and many others, too.
So, on behalf of the 200 or so people who are at this moment, in the rain, beginning to hunker down in their sleeping bags, tents, vehicles and other ad hoc shelters within Broomfield's borders, thank you for acknowledging their existence and for acknowledging the housing-stability challenge that we all face. Please consider and understand that what's needed in this moment and in the seasons ahead is an honest and full engagement with our actual challenge and what it will take to meet that challenge fully. The time for piecemeal solutions is past. We can do better. Together, we can, and we must. Thank you.