November 2019
Welcome to my month-end reading, listening and viewing recommendations, and my quick summaries of noteworthy local and global news!
---
"Recommended"
Viewing, Listening & Reading
Watch — We Are Still Here, a Wohehiv Films documentary about Cheyenne and Arapaho descendants and their annual Sand Creek Spiritual Healing Run from the site of the Sand Creek Massacre in Eastern Colorado to the State Capitol in Denver, Colo.
Listen — Check out the Your Call podcast's Thanksgiving episode, "This Land is Their Land."
Read — John Okada's No-No Boy has been called the "Great Japanese-American Novel." It deals with questions we need to ask ourselves about our history and our self-understanding as a nation…Also, I've heard great things about A Different Mirror: A History of Muticultural America by Ronald Takaki…Mark Charles, co-author of the just-released book Unsettling Truths: The Ongoing, Dehumanizing Legacy of the Doctrine of Discovery, spoke at the Refuge a few years ago. Now he's running for president as an independent…Finally, I'm further along in Craig Lesley's award-winning work of fiction Winterkill — feel free to join our new Broomfield-area book club and read along with us!
---
"Food for Thought"
A new breed of activist for a new era of income disparity — Thoughts on the recent Google tech worker walkout and the gross inequity of CEO compensation packages.
A not-so-new approach to forest management — Indigenous people have been managing forests for generations and could be key agents in the fight against climate change.
An unsung rebellion — Reenactors are usually associated with Civil War battles, but a different group of reenactors recently remembered an 1811 slave rebellion in Louisiana.
Why so many protests? — Protests have increased worldwide this year. Here's a theory about why.
Mass deportations in U.S. not new — Our current immigration crisis harkens back to another time (and other times besides that one).
---
"Stories of Need"
At Home — A recent Associated Press investigation found that nearly 1,700 dams across the United States are at risk of rupturing…The U.S. has held nearly 70,000 migrant children in custody in 2019…Santa Clarita, Calif., and Fresno, Calif., joined the long list of places that have endured a mass shooting…95 percent of Los Angeles residents consider homelessness to be the metropolis's no. 1 issue…A National Geographic profile of Ellis Island recalls how the iconic gateway shepherded millions into the United States, no visa or passport required…The strongest predictor of access to clean water in the United States is race…
Abroad — Germany did a very sensible thing by deciding to tax tampons as essential rather than luxury items…Illegal gold mining around the world has exacted a terrible cost in Indonesia…The Marshall Islands continue to deal with the sordid legacy of U.S. nuclear testing…Unrest continued in Hong Kong, buoyed by recent elections in favor of protestors, who have received behind-the-scenes assistance…Indian citizens protested a system that has led to extreme smog that closed schools for two days…The Italian city of Venice endured the worst floods in a generation…Deforestation of the Amazon continued apace in Brazil
---
"Everyday Epics"
These "everyday" individuals, families, businesses and communities have done or are doing extraordinary things:
AUSTIN (Texas) — Thanks to the everyday, bipartisan activism of countless people, including Shane Claiborne and Sister Helen Prejean, death-row inmate Rodney Reed received a stay of execution.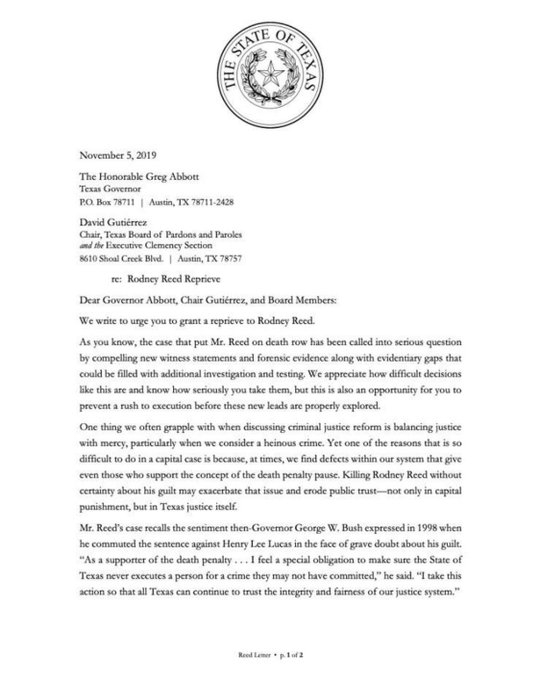 BROOMFIELD (Colorado) — An election-night sweep in my hometown signaled a new stage in local advocacy for affordable housing and in the debate over suburban fracking.
LIMESTONE COUNTY (Alabama) — Despite racism, droughts and other natural disasters, the Bridgeforth farming dynasty has endured.
VATICAN CITY — Pope Francis announced plans to visit South Sudan in the coming year to attempt to persuade warring forces to extend a tenuous peace.
LOS ANGELES (California) — Bogletch Gebre, a woman who led Ethiopia's fight against female genital mutilation, died.
MARYLAND — When he was four, Tyler Stallings found out some veterans are unhoused. He's now an 8-year-old and has made 3,000 "hero bags" — hygiene and grooming kits for homeless vets.