May 2019
Welcome to my newly streamlined, monthly blog post! Since I'm blogging more often these days, I've decided to combine into one my viewing/listening/reading recommendations (formerly "Ashes & Dust") AND my summaries of noteworthy local and global news.
"Recommended"
Viewing
Reading
Harvest of Empire: A History of Latinos in America by Juan Gonzalez — Still listening to the 15-hour Hoopla audio version of this ambitious book, which spans five centuries from the first "New World" colonies to the 21st century.
The Quiet American by Graham Greene — Written in 1955, this fictional classic examines the moral ambiguity of U.S. involvement in other countries.
---
"Food for Thought"
Our affordable housing crisis: A snapshot — "Low-rent" housing options often force residents to make impossible choices.
"My notion was…you could get people to stop laughing" — This article/podcast with Ta-Nehisi Coates examines the status of the argument for reparations for one of America's original sins.
Question: Who polices "dark money" in U.S. politics? — Answer: No one.
---
"Stories of Need"
At Home & Abroad — Another month, another mass shooting, this time in Virginia Beach, Va…50 years after the fact, U.S. and Vietnam officials are coordinating a $390 million environmental remediation project to clean up the Agent-Orange contaminated Bien Hoa airbase…Many Americans who have reached retirement age cannot afford to retire…The gap between rich and poor Americans continues to grow, to be wider than previously thought and to be facilitated by design in some cases…
Welcome & Unwelcome — On the San Diego-Tijuana border, 80 asylum seekers desiring entry into the United States get processed each day. The waiting list is 4,800 people…President Andrew Jackson signed the Indian Removal Act into law on May 28, 1830…
Hope & Fear — For many new arrivals to the United States, their odyssey here begins on a Greyhound bus…
Stability & Unrest — Hundreds of Romanians celebrated the imprisonment for official misconduct of Liviu Dragnea, widely considered to be the most powerful man in the country…Protesters in Sudan held a two-day general strike to pressure the military to hand over power to a civilian government…
Peace & War — A "celebratory" Memorial Day tweet by the U.S. Army, prompted instead stories of the harmful effects of serving in the military.
---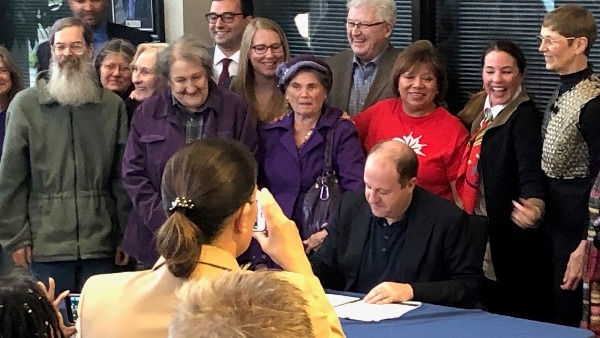 "Everyday Epics"
These "ordinary" individuals, families, businesses and communities are doing extraordinary things:
AJO (Arizona) — In 2017, Scott Warren stopped to help stranded migrants on the side of the road. He was arrested under the federal government's "zero tolerance" policy on people who help people who are undocumented and could serve up to 20 years in prison.
The State of Oregon — Thanks to a new law championed by a 14-year-old, Oregon schools will now be required to teach about the Holocaust.
CENTRAL VALLEY (California) — For her graduation photo for her master's degree in counseling from San Diego State University, Erica Alfaro proudly posed in a tomato field wearing her cap and gown, arms draped around her hardworking fruit-picking parents.