Each month, I summarize local, national and international "stories of need" from local, national and international news sites, blogs, press releases and editorials. The following are some of November's most need-in-the-news-worthy stories:
---
YEMEN — Medical professionals and aid groups called for an end to the heinous fighting that is tearing Yemen apart. Many groups have also called for the United States to end military aid to Saudi Arabia, which is instigating the war.
UNITED STATES OF AMERICA — More mass shootings occurred with no end in site, as our nation remains the No. 1 country in the world, by far, in this terrible category…Tear gas was used to disburse members of the infamous 'caravan' at our border with Mexico caravan…Forest fire literally destroyed entire towns in California.
BHUTAN — The world's only carbon-negative nation can teach the world a thing or two about energy conservation.
---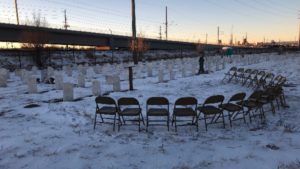 At times, what gets lost in the concern and clamor over major local, national and international events and issues, are ordinary people, communities, businesses and other groups doing extraordinary things. Here are a handful I've heard about recently:
FOUR CITIES IN INDIANA — U.S. Poet Laureate Tracy K. Smith is traveling the country to share a new kind of civic vision.
U.S.-MEXICO BORDER — For years, volunteers have been leaving water for stranded, dying migrants seeking to enter the United States.
BROOMFIELD (Colorado) — The city council approved new measures to help local mobile home residents avoid abuse by their park management. Bravo!
DENVER (Colorado) — After learning details about the 1864 Sand Creek Massacre on Colorado's eastern plains, Kate Tynan-Ridgeway, an elementary school teacher, proposed renaming the state's iconic Mt. Evans. The territorial governor at the time, John Evans, instrumentally contributed to the massacre of 200 Cheyenne and Arapaho people, most of them women, children and elderly.
CNN Heroes — Check out these 'everyday people' doing extraordinary things.
---
Thoughts and stories worth reflection:
ELECTION PROGRESS — Among other things, I'm very glad Colorado passed an amendment to our Constitution that FULLY abolishes slavery! Also glad that Native American voters in North Dakota organized to ensure they were able to vote, and that Native American and women CANDIDATES scored small but historic wins in elections nationwide.
A NOT-SO-DISTANT LYNCHING — Sixteen-year-old Preston Porter, Jr., was murdered in Limon, Colo., 118 years ago.
RACISM ON THE PITCH — Who will be the Colin Kaepernick of world "football," aka soccer?
ROHINGYA REPLAY? — In the 1970s, many thousands of Rohingya refugees were forced to return to Myanmar, and at least 6,000 of them were slaughtered. Will the same thing happen again?