These are some of my favorite and/or most noteworthy tweets, podcasts, videos and books of August:
Tweets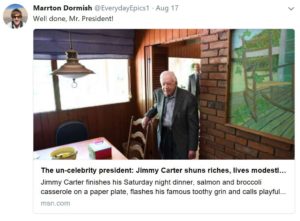 TV, Movies & Documentaries — Pray the Devil Back to Hell tells how Liberian women came together to help end a bloody civil war. Bringing Down a Dictator highlights the nonviolent resistance that toppled the regime of Slobodan Milosevic in Yugoslavia. Rosenstrasse chronicles the spontaneous and successful protests by German wives after their Jewish husbands were detained in Berlin and about to be sent to concentration camps. Based on a true story that happened during the Nazi regime's reign of terror during World War II. Finally, ProPublica and Frontline produced Documenting Hate: Charlottesville  to examine hate crimes and hate groups.
Tests — Have you ever measured your "social" perceptions? If not, check out this Harvard research project.
Books — Continuing the historical theme, How the Other Half Lives by Jacob Riis (1903) and The Shame of The Cities by Lincoln Steffens (1904), were both written by journalists and helped change societal attitudes toward people suffering from poverty…Nobel Prize winner Jane Addams is one of my heroes, a champion of service and social justice — her memoir Twenty Years at Hull House is worth a read.