For the last eight years, at the end of every month, I've summarized local, national and international "stories of need" from local, national and international news sites, blogs, press releases and editorials. The following are some of April's most need-in-the-news-worthy stories:
---
UNITED STATES OF AMERICA — A highly politicized "caravan" of about 400 migrants from Honduras and elsewhere in Central America recently arrived at the U.S. border…Gun sales nationwide soared…Some residents of Flint, Mich., still do not have access to clean water…Thousands marched in Puerto Rico to protest the imposition of austerity measures, while 30,000 people are still without power due to damage incurred during last fall's Hurricane Maria…Recent teacher protests in a number of states have drawn attention to inadequate funding and the lack of affordable housing…A recent study found that 41 percent of Americans don't know what happened at Auschwitz…
SOUTH KOREA & NORTH KOREA — In an historic meeting, North Korea's Kim Jong Un crossed the infamous "DMZ" for a inter-Korean summit meeting with South Korean leader Moon Jae-In.
DEMOCRATIC REPUBLIC OF CONGO — Civilians are once again being targeted in the midst of a civil war in Ituri province.
PALESTINE — Unarmed protestors continue to demonstrate at the border between Gaza and Israel. Thousands of protestors have been wounded by Israeli soldiers firing live ammunition, tear gas and other ordinance.
---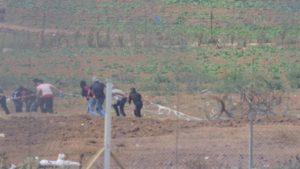 At times, what gets lost in the concern and clamor over major local, national and international events and issues, are ordinary people, communities, businesses and other groups doing extraordinary things. Here are a few I've heard about recently:
ANTIOCH (Tennessee) — James Shaw, Jr., 29, disarmed a gunman who attacked customers inside a Waffle House restaurant, likely saving the lives of many. Shaw was unarmed.
MONTECITO (California) — More than 2,000 volunteers are still helping residents dig mud out of their houses in the wake of a devastating January mudslide.
MONTGOMERY (Alabama) — A new memorial to the more than 4,000 victims of lynching in America between 1877 and 1950.
THE NEW YORKER — Author Junot Diaz movingly shared about "The Silence," his experience with childhood trauma.
NIGERIA — Young women who survived abduction by Boko Haram recently allowed their portraits to be taken — check out "Portraits of Dignity" by the New York Times.
SHELTON (Nebraska) & ELSEWHERE — The regenerative soil movement is gaining steam in American farm country.
SAN FRANCISCO — Kevin Adler founded Miracle Messages to help people connect with long-lost loved ones. So far 100 people who are homeless find friends and family.
THE PHILIPPINES — Coffee is bringing people together despite their disagreements in this island nation.
DENVER (Colorado) — Street Fraternity gives young male immigrants a place to call home and to keep them out of trouble.
RIVERDALE (Illinois) — Eighth-grader Jayera Griffin raised $2,000 for a community wash day after learning that the kids she tutored didn't have money to wash their clothes.
---
Thoughts and stories worth reflection:
MLK's LEGACY — Reflections on the lasting influence of Dr. Martin Luther King, Jr., and whether his stance on nonviolence has been distorted.
WATER STARVED — Below-average snowfall this winter in the Rockies mean drought and want in communities downstream on the Rio Grande (and other rivers).
NATION'S OBSOLETE — Have we seen the end of the era of the nation-state?
A HEATLESS WORLD — Why don't people on the Pine Ridge Indian Reservation have heat in the winter?