For the last six years or so, at the end of every month, I've summarized local, national and international "stories of need" from local, national and international news sites, blogs, press releases and editorials. The following are some of December's most need-in-the-news-worthy stories:
---
UNITED STATES OF AMERICA — Wildfires endangered parts of Los Angeles, Congress failed to renew health insurance funding for 9 million kids, the FCC scrapped "net neutrality," many Puerto Ricans' electrical power still has yet to be restored, our population of people who are homeless rose slightly (and more than 232 homeless people died in Denver, Colo., during 2017), the #MeToo social movement gained steam, and the decision to move the U.S. embassy from Tel Aviv to Jerusalem sparked clashes between Palestinian protesters and Israeli authorities.
DEMOCRATIC REPUBLIC OF CONGO — In North Kivu, 14 Tanzanian peacekeepers were killed, while the humanitarian situation in the Kasai region worsened.
YEMEN — Nearly eight out of 10 people in this war-torn and famine-pending country now need aid to survive.
UKRAINE — About 1.7 million people have been displaced by the ongoing conflict between the Ukraine and Russia.
SOUTH SUDAN — Civil war continues while the humanitarian situation teeters in the world's newest nation.
REFUGEE CRISIS — According to IRIN News, racism is at the heart of today's migrant and refugee crises.
---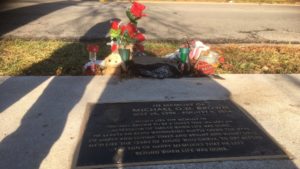 At times, what gets lost in the concern and clamor over major local, national and international events and issues, are ordinary people, communities, businesses and other groups doing extraordinary things. Here are a few I've heard about recently:
NFL — Currently unsigned and controversial quarterback Colin Kaepernick is putting his money where his mouth is to help promote social change.
COLOMBIA (Missouri) — Terrence Phillips, a junior point guard for the Missouri men's basketball team, started a non-profit called Beyond the Ball to provide Christmas gifts for needy kids.
WATERTOWN (New York) — Roman Espinoza built an "anyone-can-take-what-anyone-needs blessing box" on his lawn and now his hometown boasts more than 20 food boxes just like it.
South Africa — In 2016, Wanda Diaz Merced, an astronomer who happens to be blind, shared how she found a way to "hear" the stars
MIAMI (Florida) — Henriette Siebenberg, 85, survived the Holocaust and now enjoys skydiving.
MECHANICSVILLE (Tennessee) — In 1967, William Lynn Weaver learned a lesson about the holiday spirit that he's never forgotten.
BOULDER (Colorado) — Joshua Stevens ran for 24 hours straight to raise money to help people struggling with opioid addiction.
---
Stories worth reflection:
FIGHTING FIRE WITH FIRE — In our effort to prevent forest fires, we may have ushered in a new era of megafires.
LEAD US NOT INTO TEMPTATION — Pope Francis proposed updating Christianity's most famous prayer by replacing the phrase "lead us not into temptation" with "do not let us fall into temptation."
SHOEBOX ALTERNATIVE — Might there be a better way than stuffing shoeboxes to help kids around the world?
NO JUSTICE IN JUSTICE — Consider Bryan Stevenson's powerful talk on our criminal justice system.