For the last six years or so, at the end of every month, I've summarized local, national and international "stories of need" from local, national and international news sites, blogs, press releases and editorials. The following are some of October's most need-in-the-news-worthy stories:
---
NORTH AMERICA — Disaster recovery continues in Texas, Florida, California, Puerto Rico, Mexico and the U.S. Virgin Islands, hundreds died in Las Vegas during a "mass shooting," and New York grappled with an apparent "terrorist" attack.
CENTRAL AFRICAN REPUBLIC — In five months, 64,000 people have fled conflict and are now living as refugees in the Democratic Republic of Congo
MYANMAR — In one of the world's worst current humanitarian crises, the Rohingya people continue to flee repression and genocide in Myanmar for neighboring Bangladesh. The Myanmar government, led by Nobel Prize-winner Aung San Suu Kyi, continues to rebuff efforts to curb the tacit expulsion of the Rohingya
YEMEN — Civil war has now caused more than 10,000 deaths.
ETHIOPIA — Despite growth in its GDP, consecutive severe droughts have forced this Eastern African country to turn once again to international aid for help.
SOMALIA — Hundreds were killed by a truck bomb set off near a heavily used roundabout in Mogadishu.
SPAIN — The government in Madrid invoked the Spanish Constitution to remove the ruling, autonomous government in Catalonia and called for new elections in an effort to stem the movement toward Catalan independence
---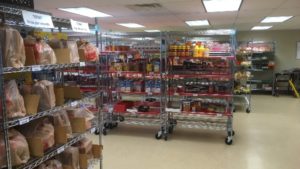 At times, what gets lost in the concern and clamor over major local, national and international events and issues, are ordinary people, communities, businesses and other groups doing extraordinary things. Here are a few I've heard about recently:
SAN JUAN (Puerto Rico) — José Andrés, a Michelin-starred chef who is justifiably famous for being at the top of his profession, has lately spent his time and effort organizing to help keep hurricane-hit Puerto Ricans from starving.
KANSAS CITY (Missouri) — Old rivals, the Missouri and Kansas men's basketball teams, raised more than $1.75 million for hurricane recovery in Florida, Texas, Puerto Rico and the U.S. Virgin Islands through a recent exhibition game at the Sprint Center in Kansas City.
NEW YORK (New York) — Police officer Ryan Nash confronted, shot and subdued the alleged suspect who killed eight people and wounded at least 11 others in a recent truck attack.
TED2017 — Investigative journalist Anjan Sundaram shares why he has helped expose the atrocities of dictatorships around the world.
LAS VEGAS (Nevada) — In the wake of the now infamous early morning country music concert massacre, Sunrise Hospital received the wounded.
SEATTLE (Washington) — WNBA star Breanna Stewart publically shared her "#MeToo" story about being sexually assaulted as a child.
---
Stories worth reflection:
SEEDS OF DISUNION — Were the seeds of today's political and social disunion in America sown during the Vietnam era?
WRIGHT ON WOMEN — Respected New Testament scholar N.T. Wright, the former Bishop of Durham in the U.K. recently sketched his case for the ordination of women.
BASIC INCOME FOR ALL — Is a basic income for everyone really possible? Finland thinks so.
WHO WAS REALLY BEHIND JFK's ASSASSINATION? — The recent release by the National Archives of almost 3,000 files related to Pres. John F. Kennedy's assassination have reignited questions about what really happened in 1963.
FROM MANDATE TO OCCUPATION — Did the British Mandate pave the way for today's occupation of Palestinian lands?