For the last six years or so, at the end of every month, I've summarized local, national and international "stories of need" from local, national and international news sites, blogs, press releases and editorials. The following are some of September's most need-in-the-news-worthy stories:
---
UNITED STATES OF AMERICA — Three destructive hurricanes struck U.S. soil — Texas, Florida and Puerto Rico — this month. Protests erupted in St. Louis in the wake of the Jason Stockley verdict. NFL players engaged in controversial pre-game anthem protests and other sports figures and politicians weighed in on the topic.
MYANMAR — The United Nations is sending monitors to investigate reports of military abuses and genocide against the Rohingya people in Myanmar, which obtains its weapons from these sources. Rohingya refugees in Bangladesh are braving rain and lack of supplies while waiting for aid in temporary camps.
MEXICO — On Sept. 19, a magnitude 7.1 earthquake struck the Mexican capital causing widespread damage and the deaths of more than 200 people.
INDEPENDENCE? — Voter referendums in support of independence recently passed in Kurdistan in northern Iraq and Catalonia in northeast Spain, but it remains to be seen if either region will achieve self-government.
YEMEN — The world's worst humanitarian crisis continues, prompting individual Yemenis to selling their organs to traffickers in order to survive.
---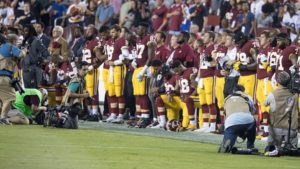 At times, what gets lost in the concern and clamor over major local, national and international events and issues, are ordinary people, communities, businesses and other groups doing extraordinary things. Here are a few I've heard about recently:
RENO (Nevada) — Bailey Johnson beat cancer four times before he turned 5. Now he's 18 and a volunteer assistant football coach.
NEW YORK CITY (New York) — Megan Phelps-Roper grew up in the controversial Westboro Baptist Church. Her TED speech on why she left has been viewed more than 4.5 million times.
WASHINGTON, D.C. — The living civil rights icon Dolores Huerta, 87, is the subject of a new documentary, Dolores, which is currently in select theatres.
BOCA RATON (Florida) — Millionaire Marc Bell temporarily opened his mansion to 70 foster kids displaced by Hurricane Irma.
HOUSTON (Texas) — NFL star J.J. Watt raised $37 million for Hurricane Harvey relief for his adopted hometown.
IOWA CITY (IOWA) — "The Wave" is a new tradition at Kinnick Stadium on the University of Iowa campus. It began as a grassroots campaign, but now involves more than 65,000 fans at Iowa Hawkeyes home football games. After the first quarter, the Hawkeyes faithful simultaneously turn to wave at sick patients watching from the University of Iowa's Stead Family Children's Hospital, which overlooks the stadium.
---
Stories worth reflection:
TIME TO REPENT — The evangelical publication Christianity Today asks if we are ready to turn away from our nation's legacy of lynching?
HUMAN TOLLS — On the impact of the opioid crisis in America.
"JUST LIKE MY MOTHER" — A look at intergenerational trauma.
THE END OF THE WORLD AS WE KNOW IT — Why do Americans love doomsday prophecies?