For the last six years or so, at the end of every month, I've summarized local, national and international "stories of need" from local, national and international news sites, blogs, press releases and editorials. The following are some of August's most need-in-the-news-worthy stories:
---
YEMEN — The world's worst humanitarian crisis is in this embattled Gulf country.
UNITED STATES OF AMERICA — Saber-rattling between the political leaders of the United States and North Korea coincided with the 72nd anniversary of the U.S. bombing of Nagasaki, Japan. A white nationalist rally in Charlottesville, Va., led to violence with and against counter-protesters and prompted athletes and citizens, alike, to speak about public memorials (and the lack of them), as well as protests and marches across the country. And Hurricane Harvey hit the Houston, Texas, area causing devastating flooding.
INDIA — At least 30 hospitalized children died in the state of Uttar Pradesh when their supply of liquid oxygen was disrupted over an unpaid bill.
SOUTH ASIA — Monsoon floods killed at least 160 people and displaced millions in India, Nepal and Bangladesh.
MYANMAR — The Rohingya, generally considered the most persecuted minority in the world, continue to face extreme opposition and religious and ethnic prejudice in Myanmar and South Asia.
---
At times, what gets lost in the concern and clamor over major local, national and international events and issues, are ordinary people, communities, businesses and other groups doing extraordinary things. Here are a few I've heard about recently: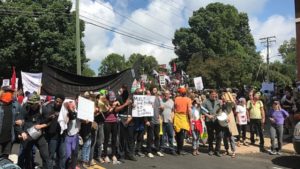 KARACHI (India) — Ruth Pfau, sometimes called the Pakistani Mother Teresa for her work with leprosy patients, died at the age of 87.
BEIRUT (Lebanon) — No one knows who started the Wall of Kindness in Lebanon.
RUBI, Catalonia (Spain) — Xavier Martinez's three-year-old son died in the recent Barcelona terrorist attack, but that did not stop Martinez from a show of unity with local imam, Dris Salym.
PORTLAND (Oregon) — The Raging Grannies consider themselves warriors for civility in our increasingly divided times.
LVIV (Ukraine) — Fr. Mykhaylo Fenkanin is a hearing priest who learned sign language to communicate with his town's deaf parishioners.
BERLIN (Germany) — Iremela Mensah-Schramm, 70, is a Nazi (graffiti) hunter. She's spent 30 years undoing the vandalism of Germany's neo-Nazi groups.
GONDIA (India) — The non-profit Lifeline Express is a train hospital with two fully equipped operating rooms.
BALLAGHADERREEN, County Mayo (Ireland) — Al, a refugee from Syria via Greece, who is living in a refugee center, recently found work crafting violins, thanks to a reference from a center volunteer. But when he asked the violin shop owner, Dave Teehan, how often he could work there, Teehan, who recently developed a severe allergy to wood, gave Al all his tools and materials.
---
Stories worth reflection:
FOUNDED IN BLOOD — The partition of Britain's Indian Empire in 1947 led to the bloodiest migration in history.
THE COLOR DIVIDE — The three-year anniversary of Michael Brown's death in Ferguson, Mo., has come and gone. Why do white Americans find it so hard to relate to the perspective of black Americans on Michael Brown's death? Why have Native Americans been marginalized by the concept of "race"?
AT THE CENTER OF A CULTURAL WAR — Five years later, with the Colorado baker and the gay couple behind the pending Supreme Court case.
ECLIPSE LESSONS — What did we learn from this year's eclipse?
POST-OLYMPIC BUST — Brazil built infrastructure and massive stadiums to host the 2016 Summer Olympic Games. One year later, Brazil faces massive debt and corruption.
THE RISE OF HATE — Here's a brief look across the United States at designated hate groups, and at the tradition of 'white nationalism' and the KKK in Colorado.
SEARCHING OUR DEVICES — Are smartphones making kids unhappy?