For the last six years or so, at the end of every month, I've summarized local, national and international "stories of need" from local, national and international news sites, blogs, press releases and editorials. The following are some of July's most need-in-the-news-worthy stories:
---
YEMEN — Cholera spread to all but one of this embattled nation's 22 provinces. More than half a million people could contract the disease by the end of the year.
BURUNDI — The United Nations estimates the number of refugees from this tiny Central African country to pass 500,000 by the end of 2017.
IRAQ — The liberation of Mosul came at a terrible price.
SOUTH SUDAN — Civil war has come to Equatoria, the breadbasket of the world's newest nation.
MEXICO — With the number of refugees from Central American nations on the increase, more and more of them are settling in Mexico.
---
At times, what gets lost in the concern and clamor over major local, national and international events and issues, are ordinary people, communities, businesses and other groups doing extraordinary things. Here are a few I've heard about recently: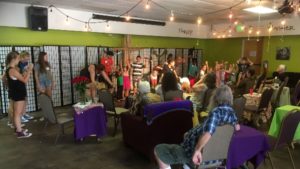 HUGO (Colorado) — In this small Front Range town, Lincoln Community Hospital, a regional health center, is a center of community life.
ARIZONA — Republican Senator Jeff Flake recently defended Democrat challenger Deedra Abboud from online abuse.
DURHAM (North Carolina) — Pastor Jose Chicas took refuge at the School for Conversion religious education center in order to avoid deportation, even as federal authorities examine the status of "sanctuary cities."
COLUMBIA (Missouri) — Charity game just the latest example of how professional basketball player Laurence Bowers continues to give back to his community.
DENVER (Colorado) — Female artists prepared to display their artwork during a gallery exhibition in well-to-do Cherry Creek. While that might not seem unusual, it was — the artists happen to be homeless.
ACROSS THE U.S.A. — These six African-American women are shattering the 'glass ceiling' in theological education.
ADDIS ABABA (Ethiopia) & PARIS (France) — Leaders of African faith communities met this month to plan ways to curtail the spread of AIDS. At the same time, scientists at a Paris summit announced that the use of a cheap drug cocktail could prevent 10,000 deaths from AIDS per year.
BOULDER (Colorado) — Jordan Murphy and Reichen Posey have a special bond as football fans and survivors of the Aurora theater shooting and the Sandy Hook school massacre.
---
Stories worth reflection:

HAS YOUR FAITH SHIFTED? — Take this quiz and find out!

WORD CHOICE & LITERARY GENIUS — Why have the novels of Jane Austen had so much "staying power"?
CHANGING AID — Researchers recently warned that shifts in global donor bases mean aid organizations must stop competing with each other to survive.
RICH OR POOR? — Are the U.S.'s most "Christian" states also the poorest?
RULES FOR DRIVING — The current program for undocumented immigrants to obtain legal driver's licenses in Colorado is in jeopardy.
CHURCH CONTROVERSY — Did Eugene Peterson have an honest change of heart or was he gobbled up by the Christian machine?
INSPIRING THOSE WHO INSPIRE — What books captured the imaginations of today's leading scientists and intellectuals?
FACES OF MEDICAID — One in 5 people in Colorado receive health benefits from the government.