For the last six years, at the end of every month, I've summarized local, national and international "stories of need" from news sites, blogs, press releases and editorials. The following are some of March's most need-in-the-news-worthy stories:
---
IRAQ — The fight for Mosul continued, causing thousands to flee their homes and several hundred thousand people overall to be displaced.
SRI LANKA — More than 80,000 people are in need of life-saving food due to drought.
ZIMBABWE — Floods killed 246 people and displaced thousands of others.
YEMEN — The world's worst current food and conflict emergency worsened in this embattled Arabian peninsula nation, including in rural Taiz.
SYRIA — During six years of civil war in Syria: 500,000 people have died, millions have been displaced, and it has been declared the worst human-made disaster since World War II.
SOUTH SUDAN — This is what war-torn life looks like in the world's newest nation.
NEPAL — Two years after a devastating earthquake, two million people are still living in temporary accommodation.
---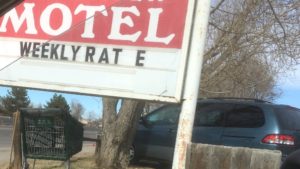 At times, what gets lost in the concern and clamor over major local, national and international events and issues, are ordinary people, communities, businesses and other groups doing extraordinary things. Here are a few I've heard about recently:
FAIRMOUNT (West Virginia) — The Feel Good Laundry service cleans clothes and offers jobs to disabled people and their families.
LONDON (England) — Thousands joined the Million Women Rise march to end violence against women.
JALANDAR (India) — For 23 years, Prakash Kaur Bibi has been rescuing India's abandoned baby girls.
PEARLAND (Texas) — Kimberly Shappley has become an 'accidental activist' on behalf of Kai, her transgender child.
KARACHI (Pakistan) — Nargis Latif turns trash into homes and believes she's started a new revolution.
---
Stories worth reflection:

WORST VIEW IN THE WORLD — The street artist Banksy opened a hotel in Bethlehem facing the concrete wall marking the border between Palestine and Israel.
WHEN LEGAL STATUS ISN'T BLACK AND WHITE — The immigration and residency status of residents is often very complex.
THIS IS US — Why does this TV show make viewers cry?
THE COST OF LOUISIANA — What was the true cost of this famous U.S. land purchase?
FOREIGN MILITARY BASES — The United States isn't the only nation with military bases on foreign soil. (But it does have the most, by far.)