At the end of every month, I summarize local, national and international "stories of need" from news sites, blogs, press releases and editorials. The following are some of January's most need-in-the-news-worthy stories:
---
THE GAMBIA — As exiles pondered a return to their country, the 22-year rule of President Yahya Jammeh came to an end this month, as Jammeh … this northwest African nation.
THAILAND — Floods killed 18 people and affected three-quarters of a million people in southern Thailand, reaching the roofs of houses in some areas.
BRAZIL — At least 60 people were killed during a prison riot in Manaus, a city in the Amazon where World Cup 2014 soccer games were played.
YEMEN — U.N. officials recently warned that this Arabian peninsula nation could soon slide into full-fledged famine.
AFRICA — In a 'silent' refugee crisis on the continent of Africa, 12.4 million people are 'internally displaced' within their countries, including more than 1 million in Nigeria alone.
VENEZUELA — With violence and corruption on the rise, many are fleeing their country.
SYRIA — Who controls what after five years of civil war?
AFGHANISTAN — Aid agencies have designated this embattled nation as a "continual emergency" as conflict is still driving thousands from their homes.
UNITED STATES — With refugees from seven countries temporarily banned from entry into the United States by President Donald Trump's recent executive order, the lives of thousands have been affected. Here's a snapshot of the refugee entry process before the order was signed. Meanwhile, some of those Muslims who helped American troops in Iraq have been abandoned.
---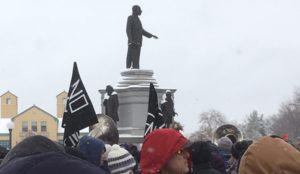 At times, what gets lost in the concern and clamor over major local, national and international events and issues, are ordinary people, communities, businesses and other groups doing extraordinary things. Here are a few I've heard about recently:
BANGALORE (India) — Madhu Singhal is a champion for Indians with disabilities. She has worked for 26 years to help make people with disabilities educated, independent and self-reliant.
FREETOWN (Sierra Leone) — Aminatta is a young mother of a five-year-old son, Thomas, who has Down's syndrome. Read part of the story of their struggle for acceptance.
Hong Kong — English journalist Clare Hollingworth helped several thousand Jewish refugees obtain visas to Britain before 'scooping' Hitler's attack on Poland that began the hostilities now known as WWII. During her career, she made of habit of reporting from the most dangerous places in the world, and in her later years she took to sleeping on he floor to make sure she wasn't 'going soft.' She died this month at age 105.
BELGRADE (Serbia) — Using his small boat, Renato Grbic, a fisherman and restauranteur, has saved 29 people from committing suicide by jumping from a bridge over the Danube.
KUMANOVO (Macedonia) — Last march, Noora Arkavazi and her family found themselves as refugees from Diyala, Iraq, where ISIS had taken control, and they were passing through Macedonia on their way to Germany. Then Noora met Bobi Dodevski, a border police officer, the only one on his shift who spoke English, and it was love at first sight.
BEIRUT (Lebanon) — Several years ago, journalist Giles Duley promised a special family of Syrian refugees that his photographs would help them find a way to safety in the West. Finally, they have. Meanwhile, artist Diala Brisly is helping child refugees cope with their experiences through art.
France — Cédric Herrou, a French farmer, is on trial for helping refugees African migrants enter France.
ROME (Italy) — Greek Melkite archbishop Hilarion Capucci died this month in Rome. He was born in 1922 in Aleppo, Syria, and lived to age 94. Long known as a passionate supporter of Palestinian rights, who twice joined aid flotillas seeking to deliver supplies to Gaza, Capucci served as Patriarchal Vicar of Jerusalem.
BROOMFIELD (Colorado) — Lucy West recently met her goal of running 50 marathons before she turned 60. Now her goal is to run 75 marathons before she turns 70.
---
Stories worth reflection:
#FINDPEARL? — Last month I shared a link from an NPR/Story Corps feature on a man in his 90s who revealed a secret he had been keeping since childhood — a lie he told that cost Pearl, his family's black housekeeper her job. But there's more to the story and to how it was viewed.
A USE FOR CANNABIS — Young Bruno Delgadillo suffered up to 300 epileptic seizures a day until daily doses of medical cannabis oil stopped them completely.
WAR OF DRUGS — There is often a connection between illicit drugs and conflict, going back even to the time of the Vikings.
FROM HARLEM TO CHINA — Paula Madison grew up in Harlem, but always knew she was different. Now she's connected with distant relatives…from China.
OVERWORK IN JAPAN — If you think you've been working too much, be thankful. 'Karoshi', death linked to exhaustion, kills thousands in Japanese workers each year.