At the end of every month, I summarize local, national and international "stories of need" from news sites, blogs, press releases and editorials. The following are some of October's most need-in-the-news-worthy stories:
---
IRAQ — Government troops and various militias closed in on Mosul, the stronghold of ISIS in Iraq, leaving up to a million people on the verge of being caught in the fighting, being used as human shields or eventually becoming displaced.
HAITI — This beleaguered Caribbean nation incurred more loss of life and property damage from Hurricane Matthew, which also pounded the U.S. east coast.
ETHIOPIA — Protests continued against the Ethiopian government, leading to the deaths of 52 people after a ceremony to mark the Oromo New Year.
COLOMBIA — One of the world's longest-running armed struggles appears to be drawing to an end, as the Colombian government is on the verge of a peace deal with FARC rebels. On Oct. 2, Colombian voters rejected an initial peace agreement, but negotiations have continued and last week President Juan Manuel Santos said 'everything is on the table.' An agreement could be reached in a matter of days.
EASTERN CONGO — Competition for this area's rich mineral wealth has left people who live nearby in poverty, while those who profit from mineral extraction accumulate wealth.
MIGRANT CRISIS — The human drama that is the migrant crisis reached new heights this month, as thousands were saved in 48 hours. Meanwhile many hundreds of refugees in France were forced to relocate from "The Jungle" camp in Calais.
---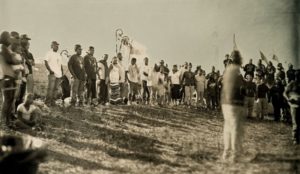 At times, what gets lost in the concern and clamor over major local, national and international events and issues, are ordinary people, communities, businesses and other groups doing extraordinary things. Here are a few I've heard about recently:
ONTARIO (Canada) — When bride-to-be Jo Du's wedding dress zipper broke one hour before her ceremony, members of her wedding party ran next door for help, and discovered one of their neighbors, a Syrian refugee who didn't speak English, was a tailor of 30 years. Ibrahim Halil Dudu and his son rushed next door with a sewing kit and saved the day.
DENVER (Colorado) — A new documentary tells the story of Denver icon Daddy Bruce Randolph.
NOBEL PRIZE COMMITTEE — Singer, songwriter and musician Bob Dylan received the Nobel Prize for Literature from the Swedish academy.
NEW JERSEY INSTITUTE OF TECHNOLOGY — College student Amos Dudley 3D printed clear braces for his teeth and they straightened his teeth for a fraction of the cost of traditional braces.
SARASOTA (Florida) — Derek Black was a card-carrying white nationalist and an heir to the leadership of its movement. Then while he was at New College, a Jewish college student befriended him and Derek's views about the world began to change.
NUREMBERG (Germany) — Benjamin Ferencz helped prosecute Nazi leaders during the Nuremberg war crimes tribunal after World War II.
ALBUQUERQUE (New Mexico) — Josette Duran's son asked his mom to start making two lunches a day because he noticed a classmate didn't have enough to eat. So she did, for weeks.
OCETI SAKOWIN CAMP (North Dakota) — As many as 7,000 people have gathered to oppose the construction of the Dakota Access oil pipeline on Standing Rock land, and for many of them it has been a spiritual awakening. Tribal leaders have called for peace and prayers amidst accusations of military-style tactics used by authorities.
CHICAGO (Illinois) — The Cubs won the pennant. Is there more to come?
SAN CRISTOBAL (Venezuela) — Protests against the government of President Nicolas Maduro produced this iconic photo.
---