At the end of every month, I summarize local, national and international "stories of need" from news sites, blogs, press releases and editorials. The following are some of September's most need-in-the-news-worthy stories:
---
UNITED STATES — Media devoted extensive coverage to national anthem protests by professional, college and high school athletes (and young students in general). Meanwhile, demonstrations against police shootings occurred in Milwaukee, Wis., and Charlotte, N.C. There have also been 900 homicides in nine months in Chicago, and ongoing protests against the construction of an oil pipeline on tribal land on the Standing Rock Reservation in North Dakota.
SYRIA — A ceasefire this month allowed school children to play with some semblance of normalcy, but bombings continued in Aleppo and elsewhere. In the meantime, Syrian White Helmets won an "alternative" Nobel prize.
ETHIOPIA — Demonstrations continued against government detention of thousands of political prisoners.
MIGRANT CRISIS — Italian rescuers have saved 13,000 refugees off the coast of Libya during calm weather months this year. This nation-less baby was born on a rescue vessel.
---
At times, what gets lost in the concern and clamor over major local, national and international events and issues, are ordinary people, communities, businesses and other groups doing extraordinary things. Here are a few I've heard about recently: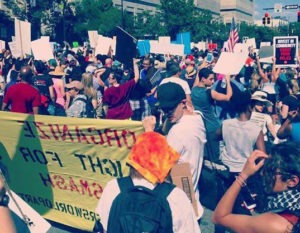 TROY (Ohio) — Mark Ross got a friend to drive him to Detroit after learning his teenage sister had been killed in a car accident. Pulled over for speeding, Ross's friend was arrested for driving with a suspended license and an outstanding warrant, leaving Ross stranded and weeping. Then Sgt. David Robison arrived, and he not only prayed for Ross, but drove Ross more than 100 miles to Detroit so Ross could meet up with his family.
PRETORIA (South Africa) — Zulaikha Patel, 13, posted on Instagram about what she called a discriminatory hair policy by her school. Her post went viral, and protests by students have recently gained international attention.
GEORGETOWN (Washington, D.C.) — Richard Cellini has been tasked with finding the heirs of 272 slaves sold by Georgetown University. The 1838 sale cleared some of the college's financial debt, but now the Jesuit institution is seeking to offer restitution for its moral debt.
KATWE (Uganda) — Phiona Matesi grew up in a slum, but became a chess champion. Now her story is being made into a Disney film.
DELHI (INDIA) — Street children run the Balaknama, "Voice of the Children" newspaper in order to tell stories of their suffering from abuse, torture and harassment.
LITTLETON (Colorado) — Jack Splitt, a 15-year-old who had cerebral palsy and severe dystonia, was mourned by hundreds of people on Sept. 1. Splitt's advocacy for special-needs children and medical marijuana usage helped contribute to changes in state law.
COLOGNE (Germany) — A local network of churches has helped hundreds of Afghan refugees shelter from deportation back to dangerous locations.
WWII EUROPE — It's 1939 and American Martha Sharp defied the Nazis to help hundreds escape Nazi-occupied Europe.
---
OCCUPATION EFFECTS — A U.N. report estimated the Palestinian economy would double in size without Israeli occupation.
40 YEARS LATER — This iconic photo symbolized the racial tension in the United States 40 years ago, and is still fitting today.
MENTAL ILLNESS STIGMA — Is it a sin not to feel joy? Explore the reality of people of faith who suffer from mental illness.