At the end of every month, I summarize local, national and international "stories of need" from news sites, blogs, press releases and editorials. The following are some of June's most need-in-the-news-worthy stories:
---
THAILAND — According to the World Health Organization, Thailand has become the first country in the Asia-Pacific region to completely eliminate mother-to-child transmission of HIV and syphilis.
ERITREA — A U.N. human rights report declared recently that the government of Eritrea has over the past 25 years enslaved 300,000-400,000 people through an unjust system of indefinite, compulsory military service.
ISRAEL & PALESTINE — As violence between in Israel and Palestine once again begins to escalate, these two families attempt to make sense of one death.
SYRIA — Tens of thousands of Syrians were trapped in "no-man's-land" as of this month.
---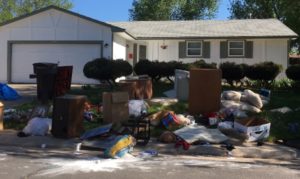 At times, what gets lost in the concern and clamor over major local, national and international events and issues, are ordinary people, communities, businesses and other groups doing extraordinary things. Here are a few I've heard about recently:
ORLANDO (Florida) — In the midst of noise, blood and terror inside the Pulse nightclub these people put themselves in harm's way to save others.
RIO DE JANIERO (Brazil) — Ten athletes will compete in this summer's Rio Olympics as "Team Refugee" under the Olympic banner.
ORANGE COUNTY (California) — Andrew's Ice Cream and Dessert asked a patron to leave for saying "racist and nasty" things about two Muslim customers in the shop. This is how the community thanked them.
CENTRAL CITY (Kentucky) — Michael Wilson, a retired coal miner with black lung disease, is working to ensure others don't end up with his condition.
LONDON (England) — Josh Coombes is a barber. He also helped begin the "#DoSomethingForNothing" movement by using Instagram to record his free haircuts for people who are homeless. 
NBC TELEVISION — You may have heard of the comedian Drew Lynch who appeared on America's Got Talent, but I hadn't until this month. Watch this YouTube video about his debut.
---
Stories worth reflection:
"OUR COMMUNITY WILL HEAL" — After the Pulse nightclub attack, the worst mass shooting in U.S. history, editors for the Orlando Sentinel decided to make a different kind of statement with their front page.
THE GREATEST — Reflections on the life of the late Muhammad Ali.
IT'S NOT EASY BEING ME — A Nepalese girl recently took photos of all the things she is not allowed to do or touch while menstruating.
WHITE MAGIC? — Some people in Malawi believe the bodies of albino people contain magic powers, which is why their bodies are sold on the black market.