At the end of every month, I summarize local, national and international "stories of need" from news sites, blogs, press releases and editorials. The following are some of May's most need-in-the-news-worthy stories:
---
THE REFUGEE CRISIS — Whose job is it to welcome refugees, including unaccompanied children seeking asylum? (For more on this question, check out the upcoming book Seeking Refuge.) In one tragically ironic situation, some Ethiopians are heading to Yemen, while Yemeni refugees flee the other direction. This is all not to mention the 8.6 million people who have been recently "internally displaced."
CANADA — A massive wildfire led to the evacuation of the entire city of Fort McMurray in Alberta, long a "boom town" connected to the oil sands industry. The fire continues to rage as firefighters from all over the world arrive to help extinguish the blaze.
BURUNDI — Refugees who have fled political instability in this tiny African country say violence in their country is getting worse. Some of them, who arrived in Rwanda, however, have been expelled.
SYRIA & IRAQ — The U.N. called for more help to meet the humanitarian crisis across parts of Iraq. Meanwhile, the United States is investigating claims of corruption connected to its aid operations in Syria.
---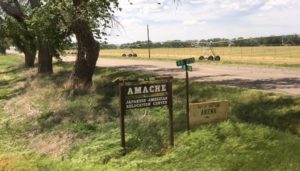 At times, what gets lost in the concern and clamor over major local, national and international events and issues, are ordinary people, communities, businesses and other groups doing extraordinary things. Here are a few I've heard about recently:
GRANADA (Colorado) — Marion Konishi, valedictorian of the 1943 Amache High School senior class, returned to the site of her former school, where she and thousands of others of Japanese descent were forcibly interned during World War II.
ORLANDO (Florida) — Greg Smith started having lunch each week with Amy Joe, a woman he met who is homeless. During their time together, he taught her to read. Then he started a foundation named after his friend to help others in need.
FORT MCMURRAY (Canada) — After Elise Phillippo's wedding dress was ruined by the wildfire raging in this Alberta city, she received more than 200 offers for replacement dresses.
MAHARASHTRA (India) — After his wife was denied water by someone of a higher caste, Bapurao Tajne spent 40 days digging a new well.
CANCUN (Mexico) to WASHINGTON, D.C. — Endurance athlete Norma Bastidas, 49, is a survivor of human trafficking, and in 2014, over 65 days completed the world's longest triathlon.
LEICESTER CITY (England) — In perhaps one of the most remarkable team sports accomplishments of all time, the underdog Leicester City soccer team earned the most points across a 38-game season to win the English Premier League title.
ALEPPO (Syria) — Muhammad Waseem Maaz, his war-torn city's most respected pediatrician, was killed when his hospital was bombed.
CURITIBA (Brazil) — Eduardo de Campos, 5, dreams of some day becoming…a garbage collector.
PAPUA NEW GUINEA (Indonesia) — Almost 2,000 protesters in this Indonesian province were detained during "illegal," pro-independence demonstrations.  
---
Stories worth reflection:
MEET ME AT THE JORDAN — Adjacent to the traditional site of Jesus' baptism in the Jordan River, danger signs warn visitors to stay behind fences due to the danger of mines. Now local officials have agreed to allow two de-mining groups to remove the danger.
WHERE "STONED" DOESN'T MEAN GETTING HIGH — The practice of stoning is still common in parts of the world today.
FUTURISTIC TRAVEL — Don't miss this man's record-setting ride on a hoverboard.
KENT STATE REMEMBERED — Four college students were shot and killed by national guardsman during a protest on May 4, 1970.
TEXAS' TRUE RELIGION? — A Texas high school spent $62.8 million on a new football stadium.
OPEN LETTER FROM CONSCIENTIOUS OBJECTOR — A thought-provoking letter from an Israeli imprisoned for refusing to serve in the military.
AMERICA'S ORIGINAL SIN — In a recent speech, filmmaker Ken Burns called slavery America's original sin.
LEST WE FORGET — Watch "Letters From Camp" by filmmaker Frank Chi, about the internment of Japanese-Americans during World War II.