At the end of every month, I summarize local, national and international "stories of need" from news sites, blogs, press releases and editorials. The following are some of October's most need-in-the-news-worthy stories:
---
THE REFUGEE CRISIS — A deluge of people continues to pour into Europe, leaving transit and destination countries, alike, at a loss. Among the refugees looking for a new home are many children, traveling alone.
HAWAII — Authorities in the U.S.'s island paradise are dealing with a homeless emergency.
ISRAEL & PALESTINE — Is there any hope for a resolution in this holiest of lands?
---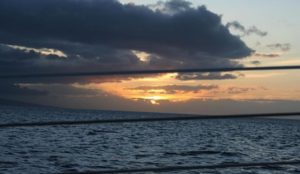 At times, what gets lost in the concern and clamor over major local, national and international events and issues, are ordinary people, communities, businesses and other groups doing extraordinary things. Here are a few I've heard about recently:
FORT COLLINS (Colorado) — Dan Berlin has run nine marathons and just became the first blind athlete to complete the Inca Trail to Machu Picchu in one day.
KANSAS CITY (Missouri) — Shane Brown and Christy Green have an unusual routine they follow at Kansas City Royals games.
AMMAN (Jordan) — Basma Omar and Mutaz Mango recently invited hundreds of Syrian refugees to their wedding.
MEXICO & FOUR OTHER COUNTRIES — Grace O'Brien, 18, is the founder of Ears for Years, a non-profit that provides low-cost, solar-powered hearing aids to kids in developing nations.
BANGLADESH & BEYOND — The film Bonsai People tells the story of Nobel-winner Muhammad Yunus.
---
Stories worth reflection:
TRULY ONE OF THE WORST JOBS IN THE WORLD — It's important, but how would you like your job to be accurately counting the dead from a civil war?
INSIDE TODAY'S "INDIAN WARS" — Economically poor tribes are still getting left out in the cold.
NUCLEAR FUSION: MORE REALITY THAN MYTH — I thought this stuff only happened in the movies. Apparently, scientists believe they are close to actually making this happen.
THE STORY OF THE STORY — On the making of the King James Bible.
1 IN 14 — According to a recent report, 1 in every 14 children has a parent in prison.