At the end of every month, I summarize local, national and international "stories of need" from news sites, blogs, press releases and editorials. The following are some of September's most need-in-the-news-worthy stories:
---
THE REFUGEE CRISIS — Migrants and refugees from the Middle East and North and East Africa have been fleeing war, violence and poor economic conditions this year. They continue to flood into Europe. Hungary wants them out. Croatia opened its borders for a time. Germany and Austria have agreed to accept thousands (although Austria subsequently closed its borders). The crisis continues, but some hold out hope that lessons can be learned.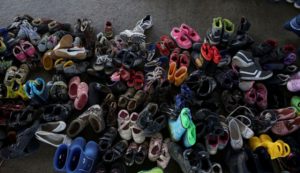 LEBANON — Protests have erupted in recent weeks surrounding government inaction on the garbage crisis in Beirut.
THE PHILIPPINES — About 220,000 people are currently displaced due to conflict in the border region of Mindanao. An estimated 5.8 million people were displaced in the area as a result of the natural disasters of 2014.
---
At times, what gets lost in the concern and clamor over major local, national and international events and issues, are ordinary people, communities, businesses and other groups doing extraordinary things. Here are a few I've heard about recently:
SAN FRANCISCO (California) — The Navigation Center is earning high praise from its clients — people who happen to be homeless.
WALBRZYCH (Poland) — The legend of Nazi gold hidden in this small Polish town turned out to also be true.
EGYPT — Egyptian billionaire Naguib Sawiris has offered to buy a Greek or Italian island and hand it over to migrants and refugees to make their own country.
BERLIN (Germany) — Anna Dushime is a reporter for BuzzFeed, but that didn't keep her from identifying with a Syrian girl whose family fled civil war. Dushime survived Rwanda's 1994 genocide.
NEW YORK (New York) — Snowday, a food truck specializing in grilled cheese sandwiches (with a touch of maple syrup) won the top "Vendy" award for best street fare. Snowday donates proceeds to help formerly jailed youth.
CHICHESTER (ENGLAND) — Tom Neil, 95, the last surviving British ace from the Battle of Britain, still wakes by 4 a.m. every morning just as he did during the war.
---
Stories worth reflection:
OPEN LETTER FROM GIRL BORN INTO POVERTY — Executive Directory Anthony Lake of UNICEF writes a letter addressed to a girl growing up in poverty — what world will she grow up living in?
LIFE IN NORTH KOREA — A defector tells his story.
A LOOK AT INDIGENT DEFENSE — Legal defense of the poor is a confusing patchwork quilt that says a lot about the way our society is structured.
HEROINE OR VILLAIN? — Which one is Kim Davis?
500 DAYS AND COUNTING — That's how long it's been since 270 schoolgirls were abducted in Nigeria.