At the end of every month, I summarize local, national and international "stories of need" from news sites, blogs, press releases and editorials. The following are some of August's most need-in-the-news-worthy stories:
---
THE REFUGEE CRISIS — The bodies of 71 refugees were found in an abandoned truck on the main highway between Budapest, Hungary, and Vienna, Austria, last week. European leaders have since held an emergency meeting to determine what to do about the growing numbers of people fleeing the Middle East and Africa for European shores.
IRAQ & SYRIA — As it continues its drive to control and govern swaths of Iraq and Syria, the self-proclaimed Islamic State (ISIS) is actively seeking to destroy ancient archaeological sites.
UKRAINE — Protesters clashed with authorities today after the Ukrainian parliament voted to give more autonomy to regions controlled by separatists.
---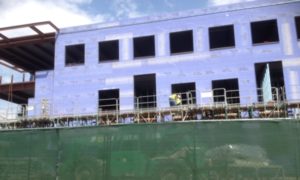 At times, what gets lost in the concern and clamor over major local, national and international events and issues, are ordinary people, communities, businesses and other groups doing extraordinary things. Here are a few I've heard about recently:
PHILADELPHIA (Pennsylvania) — Mason Wartman of Rosa's pizzeria gives away free pizza to customers who are homeless, and ever since word of his kindness got out this spring, his business has boomed.
OXFORD (England) — For their birthdays, Lee Beck, 32, and his daughter, 7, recently completed 39 acts of kindness (a number equal to the sum of their ages).
WHITESBOG (NEW JERSEY) — More than 100 years ago, the White family tamed the wild blueberry.
RANTOUL (Illinois) — At Hope Meadows, elderly residents help out young families with foster kids, and vice versa.
BOULDER (Colorado) — An armed church employee saved a woman from an attack by her estranged husband.
SOUTHERN ITALY— Christiana, a woman from Nigeria who is eight months pregnant, attempted to cross the Mediterranean Sea from Libya to Europe with her husband, Samuel. The couple plans to name their baby "Dignity" after the Médecins Sans Frontières ship that rescued them.
---
Stories worth reflection:
WHEN TRUTH IS WORSE THAN FICTION — Recent news suggests the "blood diamond" trade is alive and well.
IS THE U.S. WINNING THE WAR ON VETERANS' HOMELESSNESS? — Have recent declarations of war on homelessness made any difference on the streets?
REMEMBERING HIROSHIMA & NAGASAKI — The site of the Atomic Bomb Dome in Hiroshima, Japan, preserves one of the only buildings still standing after the detonation of the atomic bomb. This month marked the 70th anniversary of the dropping of the atomic bombs on Hiroshima and Nagasaki, Japan.