At the end of every month, I summarize local, national and international "stories of need" from news sites, blogs, press releases and editorials. The following are some of November's most need-in-the-news-worthy stories:
---
FERGUSON (Missouri) — Michael Brown was killed in Ferguson, Mo., in August. Darren Wilson was not indicted by a Missouri grand jury in November, but recently resigned his position as a Ferguson police officer. Protesters of the Ferguson decision and the circumstances of Brown's death have taken to streets and shopping malls across the country, calling for reform in the justice system and advances in race relations.
ISRAEL & PALESTINE — Recent violence and restrictions increased tensions in Jerusalem. Interfaith groups are considering how to bring peace into this volatile and sensitive situation.
SAND CREEK (Colorado) — Last Saturday was the 150th anniversary of the massacre of almost 150 peaceful Arapaho and Cheyenne villagers by U.S. troops.
WORLDWIDE — Today, Dec. 1, is World AIDS Day, a time to remember the fight against this terrible disease.
WEST AFRICA — Ebola continued "pingponging" in Liberia. Survivors of the epidemic are dealing with survivors' stigma.
NIGERIA — Boko Haram continued its violent campaign for influence, killing 45 in a Nigerian village.
---
At times, what gets lost in the concern and clamor over major local, national and international events and issues, are ordinary people, businesses and other groups doing extraordinary things. Here are a few I've heard about recently: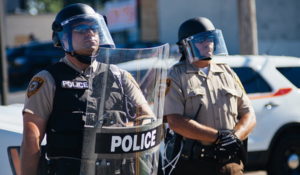 PORTLAND (Oregon) — Other protests of the circumstances surrounding the death of Michael Brown have gotten more news coverage, but this confirmed protest incident is far more instructive. This unconfirmed account also presents an alternative narrative.
BOMBAS — This sock company has a pronounced social conscience.
FERGUSON (Missouri) — Churches served and are serving as "safe havens" in the midst of Ferguson-inspired protests. Also, this burger joint pledged to stay open and not shutter its doors and windows regardless of what happened with the protests.
NEW YORK (New York) — Meet the Top 10 "Heroes" honored by CNN in 2014.
---
Stories worth reflection:
SAVE THE RHINOS — Inside the campaign to fight the poachers who are endangering the existence of rhinos.
ORDER ON IMMIGRATION? — How will Pres. Obama's recent move affect the U.S. immigration system?
FOOD CHAINS — A documentary look at food production and food workers.
AMERICAN INTERIOR — This documentary takes a unique (Welsh) look at the American West, and makes a melancholy tribute to the very last surviving speaker of the Mandan language.
MENTAL HEALTH — Is the mental health system in Colorado broken?
DEFINITIONS OF NEEDINESS? — Some homeless families aren't able to get help because they don't fit strict eligibility requirements.