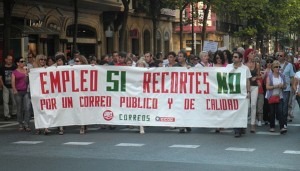 An overview of "stories of need" with links to news articles, editorials, press releases and blog posts from around the area, the nation and the world:
Front-Page
Fighting the Good Fight
Major Troublespots
SYRIA: The U.S. pledged $45 million to the Syrian opposition, while fighting in Syrian cities between government and opposition forces continued. At the same time, lack of access hindered humanitarian aid to the Syrian people.
SOMALIA: Kenyan troops attacked an militant stronghold in Somalia.
UNITED STATES: During a recent speech, Pres. Barack Obama declared human trafficking or "modern-day slavery" a problem within the United States. Experts have since weighed in on the challenges to end trafficking.
Reflections & Reviews
Published in August on EverydayEpics.com
Coming Up
Commentary: Reflections on "The Sweep Gospel."
Stories: An interview with a Greeley, Colo., pastor who works with neighbors who are immigrants.
---
Share your thoughts about this month's review of "need in the news" or offer additional links below.