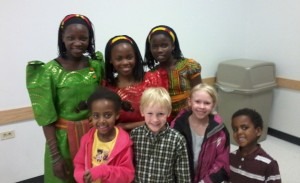 My family and I got a taste of Africa this morning through a special performance by the Watoto Children's Choir at Living Hope Community Church in Westminster, Colo. At the invitation of our friends Gregg and Stephanie Scarato, we and a group of our friends and their kids listened to a group of about twenty Ugandan boys and girls and their chaperones worshipping and dancing and sharing parts of their stories.
All of the children who performed for us this morning have been orphaned or abandoned, but their message focused instead on the love and care of Jesus in the midst of their very difficult circumstances. Through the choir program, they have a once-in-a-lifetime, educational opportunity to travel to another country while bringing Watoto and Africa to life through their colorful and high-energy performances.
According to their brochure, Watoto is a holistic care program "initiated as a response to the overwhelming number of orphaned and vulnerable children and women in Africa." Watoto maintains children's villages where kids can become part of a safe, new community, a home for babies and a medical and discipleship ministry for women. Through its programs, Watoto hopes to raise up a new generation of leaders in Uganda and in South Sudan, the world's youngest country, where a new branch of Watoto is opening.
What I enjoyed most about this morning's performance was the chance to hear a message of hope and faith from a group of people who are often considered in need of being "evangelized" themselves. The fact that the performers had all experienced excruciating loss in their lives made their stories all the more poignant.
Visit Watoto's website for more information and ways to get involved in its ministries.