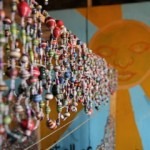 We featured Leah Pauline and the Musana Children's Home in Iganga, Uganda, in June 2010. Leah has since graduated from the University of Colorado at Boulder and devoted herself to the Musana cause. While her sister Andrea functions as executive director, and her friend Sally as volunteer coordinator, Leah serves Musana as sponsorship coordinator.
All the more encouraging for Leah's recent development efforts is the beginning of a partnership with Flatirons Church, one of the largest faith communities in the state of Colorado.
Contact Leah directly if you'd like to invite her or someone from Musana to speak to your group.