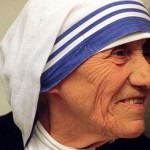 Her first name — Agnes Gonxha Bojaxhiu — is little known. However, her second — Mother Teresa of Calcutta — is perhaps the most admired name in recent history. Although she died on Sept. 5, 1997, Mother Teresa is still associated by many with the highest ideals of service and compassion for the poorest of the poor. Thanks to her beatification by Pope John Paul II in 2003, she is now known as Blessed Mother Teresa of Calcutta. Should a second miracle be ascribed to her in the future, she could be designated a saint by the Roman Catholic Church.
But before she became Blessed Teresa of Calcutta, before she met dignitaries from all over the world, before she won the Nobel Peace Prize in 1979, and before she founded her now-famous Order of the Missionaries of Charity, she was a young woman who felt called to become a missionary.
In 1928 at the age of 18, she left her Albanian family to join the non-cloistered Sisters of Loreto. One of her first tasks was learning English so she could move to India to teach school children. In 1931, she took her first religious vows and chose her new name, Teresa. From 1933-1948, she taught Hindi, Bengali, hygiene and geography at St. Mary's Bengali Medium School for Girls in Calcutta, serving for a time as the school's headmistress.
According to Mother Teresa: Come Be My Light–The Private Writings of the 'Saint of Calcutta,' edited by Brian Kolodiejchuk, she often visited families in nearby slums during her free time on Sundays, greeting them in the 2 meter by 1.5 meter rooms where they lived. During World War II, in addition to teaching and overseeing her students, Mother Teresa took on the additional burden of going out into the city to find enough food for the 300 girls in her school, even in the midst of sectarian violence between Muslims and Hindus.
It wasn't until Sept. 10, 1946, after World War II ended, that Teresa received what she referred to as her, "second calling." Come Be My Light records her words, "It was a vocation to give up even Loreto where I was very happy and to go out in the streets to serve…It was on this day in 1946 in the train to Darjeeling that God gave me the 'call within a call' to satiate the thirst of Jesus by serving Him in the poorest of the poor."
She soon shared her vision with her superiors who plied her with questions about her calling, as well as her mission's focus and means of support. Nearly a year-and-a-half later she received approval to leave the Loreto order and work toward beginning the Missionaries of Charity, which was officially established in 1950. She and her growing order received medical training, began in institute for the destitute and dying, and started opening mission houses all over the world.
In spite of the growth of the Missionaries of Charity, Teresa wrote privately of experiencing a "dark night" in which she felt the "unwanted, unloved, unclaimed" reality of those suffering in the slums reflected in her own soul. She also received criticism. For example, journalist Christopher Hitchens decried the conditions in some of Teresa's orphanages, what they he was her permissive attitude toward suffering and the use to which she put funds given to the Missionaries of Charity.
Nevertheless, Teresa and her sister's have helped countless suffering people and inspired volunteers, such as American writer and co-founder of The Simple Way, Shane Claiborne, who wrote about his encounters with Teresa and her work in his book, Irresistible Revolution. According to Wikipedia, by 2007 the Missionaries of Charity included 450 brothers and 5,000 nuns worldwide, and operated 600 missions, schools and shelters in 120 countries.