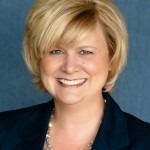 A slightly updated version of this story has published in The Sweep Report: A look at key indicators, trends and needs in Broomfield, Colorado, USA.
---
On Jan. 23, a fire at the Highlander Apartment Complex in Broomfield, Colo., left 18 residents homeless. Among those who immediately mobilized to help the victims was Carina Martin, Executive Director of the Broomfield non-profit A Precious Child.
"We helped get them much needed clothing…as well as connect them with furniture donations," she remembers.
What's remarkable about Carina's response to the fire is not so much that she published a list of furniture needed by the victims, it's that in just a little over two years, Carina has seen A Precious Child grow from an idea into an important strand of Broomfield's social safety net.
Broomfield Police Chief Tom Deland says, "When Carina first had the idea, one of our very first meetings was here in this office…with the mayor and me, and Carina wanted to know if she could count on the police department [for support]. Carina has the personality to ask and get people to donate time and money, and keep people moving in the right direction. You talk with her for any period of time and you just feel like you want to be a part of what she's doing."
While Carina excels at enlisting the help of local celebrities, such as retired soccer star Marcelo Balboa and TV personality Dave Aguilera, she herself doesn't enjoy the spotlight. "I'm absolutely phobic of public speaking," Carina says, her eyes wide at the memory of giving an acceptance speech in front of 400 people at the recent Heart of Broomfield Awards ceremony. "My goal was to not cry, faint, or forget what to say."
Before the beginning
Before launching A Precious Child in November 2008, Carina had owned and managed a multi-location fine jewelry boutique, but she had never run a non-profit. She had volunteered full-time at her son's schools, but she had never systematically recruited or organized volunteers.
"I always knew that my life was going to be used to help others," says Carina, whose grandfathers were pastors and whose mother was a missionary in the Philippines, Africa and Mexico. "I would help with little things, but I knew that at some point, God was going to use me in a big way."
In 2005, two weeks after she moved to Colorado with her family, her son made friends with two neighbor boys. When Carina met the boys' mother, Sharon, she quickly realized her neighbor was in crisis.
"I told her that we needed to find a good church,' and she was the one who introduced us to Flatirons Community Church [where Carina's family still goes]…But she was drinking a lot and was hyped up on morphine from a recent hip surgery and her life spiraled out of control," recalls Carina.
"Within three months…child services showed up and took her kids away, and even though we hardly knew her, Sharon asked, 'Will you take my kids for me so they don't go to strangers?'"
"So I picked up the phone and called my husband…We ended up being foster parents to [Sharon's] boys while she tried to turn her life around. And she did. She stopped drinking and got off drugs."
In early 2008, after the Martins' first foray into foster parenting, Carina says, "I was sitting at Flatirons and the pastor was talking about a trip [a group from the church was taking] to Afghanistan, and he said, 'Guys, you don't have to go to Afghanistan, but what are you doing to help people in need?' It was one of those light bulb moments, that God was speaking to me and so I said to myself, 'I need to step it up.'"
Soon after hearing that sermon, Carina went on a short-term mission trip to serve at five orphanages and a school in Thailand. She says, "It was one of those experiences where I discovered what I'm supposed to be doing with my life—helping kids in need.'"
"Then a friend of mine asked me, 'What are you doing to help the kids in need in this area?' And I said, 'I live in Broomfield. How hard can it be here?' I knew about hard hit areas in Denver, but not [in Broomfield]. It was one of those naive comments."
An idea takes shape
Last year, from its unobtrusive offices and warehouse in a Broomfield industrial/business complex, A Precious Child helped 26,000 disadvantaged and displaced children with basic needs. "The work that A Precious Child does is timely," says Tom Deland, Broomfield's Chief of Police. "Broomfield's not unlike a lot of suburban communities. A lot of times you don't see the families in need because they're spread out in the community."
Intrigued, Carina started asking around locally, "Is there a need?" She had her meeting with the mayor and Chief Deland, she met with school principals, she interviewed the staff of non-profits, and she began to understand the often-hidden-but-real plight of disadvantaged children in her community.
"I wanted to find the gap [in services]," Carina says. "What I found was different organizations that are doing great work, but they needed help providing basic needs to their clients."
Then, as if to punctuate her developing vision, her friend Sharon started to drink again. "I said I would go to AA classes with her, but she wouldn't show up. She would give excuse after excuse and it started to impact our family."
On Halloween 2008, Sharon overdosed and died. The Martins partnered with some friends to foster parent Sharon's boys until their father was able to move them all close to family on the east coast.
"I had already started the process of filing the paperwork out to start A Precious Child, but [after Sharon's death] it became clear that I wanted to focus on basic needs as well as children in the foster care system. She was really the most giving person. She just couldn't handle things. So, 'Share-On' is the name of the program [within A Precious Child] where we provide clothing and basic essentials."
The need is great
A Precious Child works directly with families and indirectly through other agencies—such as the local food bank, the local county health and human services department, schools, foster associations, the local work force center and shelters.
In the midst of her collaborative work in the community, Carina has noticed a sobering trend. "People who five years ago were doing well…now have their home in foreclosure and they can't provide the most basic needs to their children."
That harsh reality is especially poignant during Christmas, on birthdays and when kids want to participate in sports, but can't afford dues or equipment. Last year, for example, through donations from the community, A Precious Child gave more than 3,600 holiday gifts worth approximately $144,000 to needy local children.
"We're the lucky ones, because the community generously donates these items to A Precious Child, but we get to see the kids' eyes light up when they get their new clothing," Carina says. "The kids know that they are going to be able to go to school and fit in and not be embarrassed about what they are or are not wearing."
"It's a whirlwind. We see the need and it's so huge. And once you see the need you can't turn your back on it."
---
If you live in the Broomfield area and are interested in volunteering with A Precious Child, please call 303-466-4272. They need volunteer intake workers, receptionists, clothing bank associates, client services, event planners, grant writers, delivery and pickup drivers, and data entry associates. For more information, visit A Precious Child's website.
If you live elsewhere, but are interested in starting or being a part of a ministry similar to A Precious Child, follow Carina's example and contact your local civic leaders to find out more about where the "gaps of service" might be in your community.
---