Transport a typical American to a remote village in The Gambia in West Africa, and "lost" would probably be an accurate description of his emotional state. ("What?! There's no cell phone coverage here? No Internet either? How can I update my Facebook status then?") Do the same thing with Dave Reierson, and he'd feel right at home digging the village a fresh-water well.
Like MacGyver, the resourceful secret agent of 1980s and '90s TV fame, Dave is a hands-on kind of guy. He flies Airbus 320s for United Airlines, and has a degree in computer engineering from the University of Minnesota, but his real passion has always been for building things.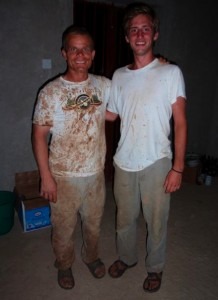 "If somebody needed a garage, I'd go and build it," Dave said, recalling the remodeling business he ran with one of his brothers during college.
"The handy part is more my passion. Being a pilot has been what supports my habit."
Getting things done
His building project résumé includes refinishing his and his wife, Ann's, first house, when he was stationed in Indiana with the Air Force, and completing a 3,000-square-foot addition on the first house they owned in Colorado, though it took him nine years to do it. Since last spring, Dave has been restoring a small cabin near Coal Creek in Colorado's foothills.
Maybe it's because he grew up as the youngest of nine kids. ("By the time I came around," Dave recalled, "my parents were, 'As long as you're not in jail, then whatever'.") Or maybe it's because he landed a pilot scholarship in ROTC at the University of Minnesota despite getting airsick as a kid. For some reason, Dave excels at getting things done in spite of the inherent difficulties involved.
"My [ROTC] commander told me, 'You'll never be happy sitting behind a desk. You should be a pilot,'" Dave said.
Convinced the scholarship would help him get out of Minnesota, Dave agreed. He barely survived his T-37 jet training, with its spins, "rudder hunts" and unpressurized cockpits whose temperature could reach 140 degrees Fahrenheit. "Eat something that tastes as good coming up as it does going down," his instructors advised.
Dave flew KC-135 refueling tankers during Desert Storm, then flew in the Air Force Reserves until he got hired by United. In 1996, Dave and Ann moved to Colorado with their two young boys, Kyle and Clay. In 1998, they welcomed three-year-old Marika into their home through their county's "foster-to-adopt" program, and two years later Marika officially became a Reierson.
Listening to his story
Over the years, Dave served in various capacities at the Reiersons' local church, including the children's ministry and the building committee, but he found himself wanting to pick one thing and pour his energies into that.
"I wanted someone to say, 'This is what's going to happen,' and [he'd say] 'I'll make it happen.' I couldn't take one more meeting."
After the Reiersons moved to Arvada, Colo., Dave continued searching for a way to focus his efforts to help others. "I wanted it to be something that could travel with me, so I took an inventory. What are my assets? What do I have to offer? There's my mechanical background. I teach. Almost right away with United I got into the instructor world. I can fly around the world pretty easily. I coached my boys' baseball teams."
One day, Dave heard something on the radio about the need for clean water around the world, and he thought, "There is something that's hands-on."
He wrote up his qualifications in an email and sent it to more than a dozen different non-profits. None of them knew how he could fit in with their efforts.
"It was a…humbling experience," Dave remembered. "No one said, 'You're the person we've been waiting for!' You realize you're not going to save the world. You're just going to serve so you don't get this god complex that you're going to help someone in Africa who is somehow inferior to you. It was a reality check."
The Gambia or bust
Dave started researching how water systems work, how drills work, and what was being done about clean water issues, and he also got some training from two large nonprofits, Lifewater and Living Water.
Then he heard from a friend who served in church planting and short-term missions. His friend had recently received money to build a well in The Gambia, but he didn't know what to do next.
"That was really what I had been looking for. Someone to say, 'This is what we want to do. Can you make it happen?'"
Dave's mission was to set everything up with local contacts and build the well so a short-term team of volunteers could dedicate it during their trip.
"I've always just felt, 'Just do it,'" Dave said. "I wouldn't even question [that possibility that] I would be able to make it happen."
In February 2008, using his pilot privileges, Dave sat in the extra cockpit seat of two airline flights to get to London, flew stand-by to Dakar, Senegal, then walked up to a prop-plane bound for Banjul, The Gambia, to ask for a ride. It was too late to either buy a ticket or get permission to sit in the "jump-seat" of the plane for that day's flight, but the plane's Canadian pilot offered Dave a place to stay until the next day's flight to Banjul.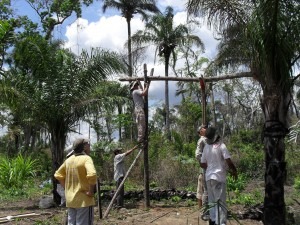 While he waited, Dave toured a nearby island off the coast of Senegal where African captives had been transferred to ships during the days of the trans-Atlantic slave trade. The next day he took a taxi to the airport, promising the driver $2 for the trip. However, when they arrived, the driver refused to accept it. Soon his driver and about 50 other taxi drivers surrounded Dave, angrily demanding more money. The principle of the matter rankled Dave, but he thought, "I can die here or pay another $3." He paid. Then he boarded his Canadian friend's prop-plane for a 40-minute flight to the Gambia, avoiding what would have been a 10-hour drive.
Dave's only connection to The Gambia was the phone number of a local pastor given to him by his church-planting friend. The pastor connected him to a Muslim contractor, who shook hands with Dave "in contract," and together they planned the construction of a well for the village of Latria: setting the pump, hand-auguring the hole, pouring the concrete pad, shaping a livestock watering trough, and digging a 50-foot channel between the well and the watering trough.
"There are things you have to accept on trust in Africa," Dave said. "Knowing people and that everything is done relationally, you have to respect that. It's not the get-it-done mentality it is in the U.S."
Unfortunately, soon after they poured the well's concrete pad, it started disintegrating. The cause: bad cement. Since the value of the dollar was down, and projects in China and India had diverted so many construction resources, the local contractor was forced to use local cement. He helped reconstruct the pad, Dave found a small local store that imported hand pumps from India, and soon Latria, a mixed community of Christians and Muslims, had a working clean-water well.
The well ended up costing about $8,000, including $2,000 for the hand pump alone. (Dave covered his personal expenses, as he always does on his trips.) With donations he had previously raised for the well he ended up barely breaking even, but he saw and experienced enough to begin Hope2Others International.
"I'm learning as I go," he said. "I saw a niche between where big water organizations operate and have a set program in a given country, and people or organizations that have money, but not the expertise."
Well Building 101
To his surprise, Dave found there were no effective water programs in The Gambia administered by either large non-governmental organizations (NGOs) or the Gambian government. So, he started his own program of refitting rural wells, digging new wells and generally promoting sanitation.
Rural Gambians rarely have the luxury of clean water, let alone clean, filtered water available from the tap of their kitchen sink. Instead they get their water from shared, hand-dug, crank-turned, open wells often contaminated by waste, dirty rope or dead animals. When Dave gets invited to refit an open well he first asks the village to finance at least a part of the cost. Next, he removes the rope and bucket, cleans out any debris that might have fallen into the well, and sanitizes the well with bleach. Then he pores a concrete pad over the top of the well and installs a new pump. The concrete cap keeps contaminated water from infiltrating into the well, and the pump keeps the water clean on its way up from the ground. While he works, Dave trains a team of locals how to work on the well and repair the pump, if necessary.
If there's no well where there's a need for water, Dave enlists the help of strong-backed local volunteers to drill a traditional "bore hole," pour a concrete pad and set a pump in it. The water table in The Gambia is shallow, typically about 50 feet below the ground, so based on a bit design and technique learned from Terry Waller of Water for All Intl., Dave designed a hand drill that can be quickly made with locally available hardware.
According to Dave, sanitation education is crucial for any water program, since diarrhea, cholera, dysentery and other water-borne illnesses contribute to high infant mortality rates and a host of other problems. The infant mortality rate in The Gambia is nearly 7 percent.
"Eventually a lot of people can function with that [contaminated] water, but they lose a lot of kids along the way," Dave says.
From well maintenance to hand washing, Dave encourages Gambians to protect their health as well as their water supply, but he knows they've been so battered by poverty, lack of infrastructure and hopelessness that it will take time for them feel truly empowered.
"Too often if a well breaks, people go back to the [contaminated] river and drink."
It's a question of access, availability, and expediency. If it takes an hour to walk to a common well or river and bring back buckets of water for family use – a task that falls to Gambian women and children – the family is unlikely to wash their hands with it. Time spent gathering water is time kids spend out of school. Over-used water sources get "burned out," forcing families to travel farther and farther away to get enough water. Add armed conflict to the mix, and the time-consuming and physically exhausting job of fetching water can turn deadly.
"If you ask someone in the U.S. what poverty is they would say people don't have money. If you ask someone in Africa they would say it's the inability to change their status," Dave says. "It's not going to change if we're not willing to invest in relationships long-term."
Dave gears his program in The Gambia toward partnering with local churches and village councils, because he sees the damage caused by Westerners who swoop in and throw money at a "problem."
"[Gambians] become more impoverished because without the white guy, they think, 'We can't do anything.' If we can empower [local] churches and others, now they are making a difference and seeing hope, and it's not some white guys doing everything."
Using this same approach, Dave has also helped with water projects in Uganda, Southern Sudan, Bolivia and Haiti.
"One size does not fit all"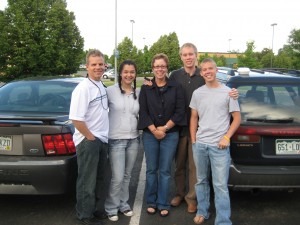 As for Dave's family, he says, "We strike a pretty good balance…Annie loves and cares for people here locally. Our marriage has always been me traveling, so it's not…a strain for me to go on a trip. Kyle will graduate with an accounting degree in December, and he's picking up the financial aspect of it. Clay is more operational. Marika is a trooper and she'd be great on a trip."
By last fall, Dave had raised enough money to buy 50 hand-pumps for villages in The Gambia, as well as pay a small salary for the local teams who will maintain the wells. Last month, during his most recent trip to The Gambia, Dave installed eight new pumps on broken wells, placed concrete caps and pumps on two open wells, and dug a new well in an area with no access to water. He imported each pump directly from a manufacturer in India for just over $300 each. In partnership with South Carolina-based Water of Life, Dave also established a Gambian NGO.
"One size does not fit all. It could be someone needs to hire a contractor, or build a hand drill, or get a big-rig to dig really deep. I try to figure out what the best solution is for [individuals or groups] that want to get involved."
---
If you have experience welding drill bits, designing and maintaining web pages, preparing Powerpoint presentations, or administering a nonprofit, Dave would love to hear from you. For more information about Hope2Others International, click here.